Main content
Love, life and longing with Deborah Frances-White, Vick Hope, David Morrissey and Richard Osman
11 May 2022
BBC Two's book club Between the Covers is back for a new series of reading recommendations and celebrity chat. Host Sara Cox is joined by four guests each week, who'll discuss their own favourite reads as well as our book club picks. In the first episode we explore a thriller set in Italy, a tale of a Parisian affair and an interracial love story.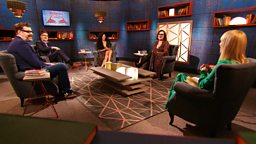 Each week we reveal the much-loved books suggested by Sara Cox's famous guests. In the first episode of the new series, Deborah Frances-White, Vick Hope, David Morrissey and Richard Osman reveal the books they can't do without.


Deborah Frances-White – Rainbow Milk by Paul Mendez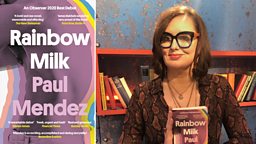 Author and comedian Deborah Frances-White chooses Rainbow Milk
The cover says: An intersectional coming-of-age story, following nineteen-year-old Jesse McCarthy as he grapples with his racial and sexual identities against the backdrop of a Jehovah's Witness upbringing and the legacies of the Windrush generation.
So beautiful, so literary.

Deborah Frances-White
Deborah says: "I really related to this book because it's about a young British man of Jamaican heritage, who is a Jehovah's Witness. I am not a young British man of Jamaican heritage, but I was a Jehovah's Witness and nobody has written better about the experience of being disfellowshipped and shunned.
He is shunned for being gay. He comes down to London and becomes a sex worker. And then it's all about his relationships and his adventures. But if you have to start again from absolutely nothing, and you know nobody, it's a very strange experience.
Now, what I did was become a nanny because you automatically get a roof over your head. I had a much more Mary Poppins version of this.
So in this book, which is so beautiful, so literary, I fully related to the experience of half of it, and the other half was such a journey into the unknown for me - in a way that no other book has ever been."

Vick Hope – Noughts and Crosses by Malorie Blackman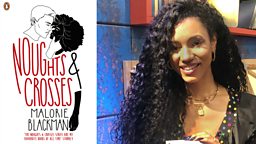 Author and radio presenter Vick Hope chooses Noughts and Crosses
The cover says: Two young people are forced to make a stand in this thought-provoking look at racism and prejudice in an alternate society.
It taught me about the futility of hate and injustice... and it taught me empathy.

Vick Hope
Sephy is a Cross — a member of the dark-skinned ruling class. Callum is a Nought — a "colourless" member of the underclass who were once slaves to the Crosses. The two have been friends since early childhood, but that's as far as it can go. In their world, Noughts and Crosses simply don't mix. Against a background of prejudice and distrust, intensely highlighted by violent terrorist activity, a romance builds between Sephy and Callum — a romance that is to lead both of them into terrible danger.
Vick says: "I've gone for a book from my childhood. It's set in this alternative society where racial power structures are flipped on their heads.
It's essentially Romeo and Juliet, but it was the first time that I had ever seen an interracial relationship on the pages of a book. In fact, anywhere other than my family, and it helped me understand the struggles that my parents went through as a black African and white English couple in Newcastle in the '80s.
I knew that their family weren't at the wedding. I knew that they'd been told a blackbird doesn't mate with a dove, or that your kids will have bent spines because it's not right. I'd heard all this stuff, but I didn't fully understand until I read about it here.
I found solace on the pages of this book. But it also taught me about the futility of hate and injustice and prejudice and discrimination. It sparked my activism, it made me want to help. And it taught me empathy. It taught everyone I know of my age about racism in a way that we could understand: it mobilised and galvanised us."
Noughts and Crosses was one of the BBC's 100 Novels That Shaped Our World

David Morrissey – Giovanni's Room by James Baldwin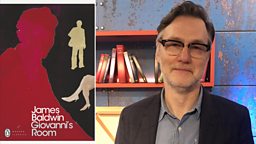 Actor David Morrissey chooses Giovanni's Room
The cover says: David, a young American in 1950s Paris, is waiting for his fiancée to return from vacation in Spain. But when he meets Giovanni, a handsome Italian barman, the two men are drawn into an intense affair.
It's a heartbreaking book really… a very brave book.

David Morrissey
Filled with passion, regret and longing, this story of a fated love triangle has become a landmark of gay writing. James Baldwin caused outrage as a black author writing about white homosexuals, yet for him the issues of race, sexuality and personal freedom were eternally intertwined.
David says: "I love Baldwin. All his books are so sensational. The protagonist of the novel, he's a very complicated person. You sort of hate him at times for what he does. He's trapped in a prison of his own making and it's about his inability to be free within himself.
I think Baldwin is a great, great writer. And this was rejected by his publishers. He'd written a great book called Go Tell It On The Mountain. And his publisher said, 'you can't publish this' and he had to change it for an affair with a woman. And he just said no. He was a young, impoverished writer, he had nothing. He took it off the publishers and he gave it to someone else. And it wasn't particularly well received. Massively brave.
It's a heartbreaking book really. And a bit like all the great books, you want the protagonist to do something else and he never does. He is someone that you don't particularly like, and I think that's a really interesting thing."
Giovanni's Room was one of the BBC's 100 Novels That Shaped Our World

Richard Osman – The Talented Mr. Ripley by Patricia Highsmith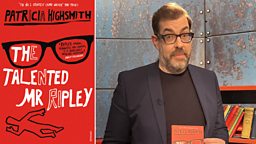 TV presenter and author Richard Osman chooses The Talented Mr. Ripley
The cover says: Tom Ripley wants money, success, and the good life - and he's willing to kill for it. Struggling to stay one step ahead of his creditors, and the law, Ripley leaps at the chance to start afresh on a free trip to Europe. But when his new-found happiness is threatened, his response is as swift as it is shocking.
Ripley does terrible things... but you sort of love him in a funny kind of way.

Richard Osman
The Talented Mr. Ripley inspired the Academy Award-winning film starring Matt Damon, Gwyneth Paltrow and Jude Law.
Richard says: "I love Patricia Highsmith. We all love Agatha Christie, but I think Patricia Highsmith is the greatest American thriller writer of all time, the greatest crime writer of all time.
This is a story of a young confidence trickster called Tom Ripley in New York. He has the opportunity to go to Europe and, via nefarious means, to make an awful lot of money and assume a new identity. He is so utterly amoral. He does terrible things, he steals things, he kills people, but you sort of love him in a funny kind of way. That's sort of a hero that hadn't quite been written in crime fiction before.
When I'm writing, Patricia Highsmith is the person I usually listen to on audiobook. The way she writes is so spare. With most writers, you can work out what the trick is eventually, if you need to, but with her I've never really worked out her trick. She writes so beautifully but you're carried along on this wave of awful crime and brilliant depictions of 1960s Europe."
The Talented Mr. Ripley was one of the BBC's 100 Novels That Shaped Our World

Episode 1 preview: Guilty pleasures and bad reading habits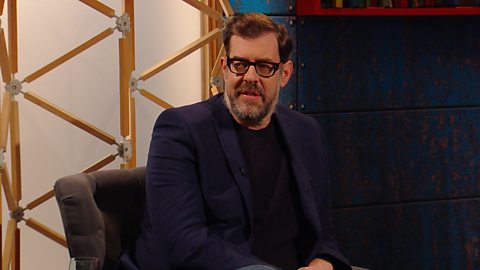 Richard Osman, Deborah Frances-White, Vick Hope and David Morrissey on bad book habits.