Main content
Camp and Furnace Ticket Information - 6 Music Festival By Day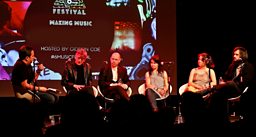 ** All regular tickets for 6 Music Festival By Day at Camp and Furnace have now SOLD OUT. **
You'll be able to watch all of 6 Music Festival live and on demand on BBC iPlayer and right here at bbc.co.uk/6musicfestival - More details on our Event Information page
Venue Info & Door Times
Camp and Furnace
67 Greenland St
Liverpool
L1 0BY
0151 708 2890
http://www.campandfurnace.com/
Saturday 30th March
11:00 Doors, 17:00 approx. Show Ends
Sunday 31st March
10:30 Doors, 17:00 approx. Show Ends
Disabled Access
Events at Camp & Furnace are across two different event spaces. Due to the nature of this venue access is not as straight forward as our other venues. Guests with mobility impairments will be contacted in advance and met on the day by our accessibility coordinator. They will be shown the dedicated route into the building, how to get from one space to another and also where the accessible toilets can be found.
In Camp there is no viewing platform, spaces will be held at the front for Wheelchairs and benches available for guests who need to sit. It is important guests make us aware of their requirements in advance so we can organise space/benches accordingly. In Furnace there will be a dedicated viewing platform.
For access in both spaces, Camp & Furnace, we will need you to fill out our registration form and send it back to us with your requirements and your proof of disability to: access@farandbeyondevents.co.uk - you can find this form on our Accessibility page
Accessible toilets are available at this venue.
Further information about disabled facilities and access tickets for all venues at 6 Music Festival can be found on our Accessibility page
Event Restrictions
You need to be aged 18 or over to attend this event.
You may be required to provide photographic ID in the form of a passport or driving licence. Please click here to view all 6 Music Festival Terms and Conditions
Please note there is no readmission to the venue once the event has started.
Travel and Directions
Travel and transport information and options for Camp and Furnace are available on the venue's website
Prohibited Items
Please read the full 6 Music Festival event Terms and Conditions which include a full list of prohibited items.
Please be aware professional photography equipment such as zoom lenses are not allowed in the venue. Selfie sticks are also not permitted.
Food & Drink
A range of hot and cold food and drinks options will be available to purchase inside at Camp and Furnace via on-site food vendors. All Bars inside the venue will be operating a challenge 25 policy. Camp Bar, Lobby Bar, The Furnace Bar and The Furnace Side Bar will be open each day to purchase alcoholic and non-alcoholic beverages plus snacks.
Please note that a cloakroom will not be available for this event.