Main content
Etta and Otto and Russell and James by Emma Hooper
About the Book
Etta's greatest unfulfilled wish, living in the rolling farmland of Saskatchewan, is to see the sea. And so, at the age of eighty-two, she gets up very early one morning, takes a rifle, some chocolate and her best boots, and begins walking the 2,000 miles to the water.
But Etta is starting to forget things. Her husband, Otto, remembers everything, and he loves her: surely they can balance things out?
Their neighbour Russell remembers too, but differently - and he still loves Etta as much as he did more than fifty years ago, before she married Otto.
Rocking back and forth with the pull of the waves, Etta and Otto and Russell and James moves from the present of a too-quiet-for-too-long Candadian farm to a dusty past of hunger, war, passion and hope, from trying to remember to trying to forget as, from prairie to forest to mountain to sand, Etta walks.
About the Author
Emma Hooper is musician and writer. As a musician, her solo project "Waitress for the Bees" tours internationally and has earned her a Finnish Cultural Knighthood. Meanwhile, as an author, she has published short stories, non-fiction pieces, poetry and libretti, as well as a number of academic papers and presentations on a range of subjects from retro-futurism to gender studies in pop music.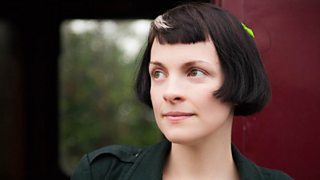 Emma is currently a research lecturer at Bath Spa University, in the Commercial Music Department. She lives in the UK but goes home to Canada to cross-country ski as often as she can afford.