Main content
Ten Pieces III: Everything you need to know
Ten Pieces III is using a brand new set of classical pieces to engage children aged 7-14 and inspire them to make their own creative responses to the music.
Find out everything you need to know about this phase of the project, including planned activities, what resources are available, and which pieces are on this year's list.

Activities
Join in with exciting events and activities during the 2017/18 academic year: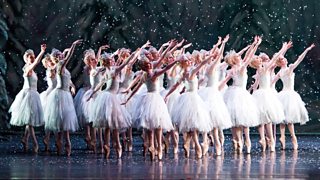 Dancers perform during The Nutcracker. Credit: ROH
Find out more about what to expect and how you and your pupils can get involved below. There will be more events announced throughout the year, including a grand finale in the summer. Make sure you register to be the first to hear about upcoming opportunities.
Catch up with the Nutcracker Live Lesson

The Ten Pieces Nutcracker Live Lesson and its extra lesson are now online! Catch up on everything that happened in a jam-packed half hour of dance and movement for 7-11s and use it to develop your own shapes and dances.

Held on 13 November 2017, the Live Lesson encouraged children to create their own original movements to Tchaikovsky's Russian Dance from The Nutcracker. In partnership with the Royal Opera House and Royal Ballet School, the 30-minute event was presented by CBBC's Naomi Wilkinson and Karim Zeroual.

There are lots of free Ten Pieces teaching resources to help you get creative with Tchaikovsky's music, including MP3s, lesson plans and arrangements. Rewatch the Live Lesson, use the resources, then record your dances and upload them to the Ten Pieces website.


Ten Pieces uploader - now available
The Ten Pieces Coaching Scheme is in action

The Ten Pieces Coaching Scheme is back! Led by musicians from the BBC Orchestras and Choirs and Ulster Orchestra in Northern Ireland, the scheme offers aspiring instrumentalists and vocalists aged 10-18 the chance to improve their performance skills and musicianship through a selection of bespoke workshops and coaching programmes. The BBC Singers will deliver special workshops, working with existing choirs or school groups to learn and perform No Place Like, a new vocal piece written by Kerry Andrew for Ten Pieces III.

Applications for 2017/18 are now closed. You can find more information about the scheme on the Ten Pieces Coaching Scheme page.


Ten Pieces School and Family Concerts - see the full list

Also returning in 2018 are Ten Pieces Schools Concerts. Presented by the BBC Orchestras and Choirs, the concerts will give young people across the UK the opportunity to see a full orchestra and world class conductors performing the pieces live. A series of Ten Pieces Family Concerts will additionally offer families a chance to enjoy music from all three sets of Ten Pieces.

Booking details for the concerts will be available via the Ten Pieces website shortly.

Dates and venues:

Wed 7 February: Ten Pieces Schools Concert - City Halls, Glasgow (BBC Scottish Symphony Orchestra)
Thu 8 February: Ten Pieces Schools Concert – Perth Concert Hall (BBC Scottish Symphony Orchestra)
Sun 11 February: Ten Pieces Family Concert – His Majesty's Theatre, Aberdeen (BBC Scottish Symphony Orchestra)
Tue 27 February: Ten Pieces Schools Concert – Watford Colosseum (BBC Concert Orchestra)
Wed 28 February: Ten Pieces Schools Concert – The Embassy Theatre, Skegness (BBC Concert Orchestra)
Sat 3 March: Family Concert - Sir Thomas Picton School, Haverfordwest (BBC National Orchestra of Wales)
Sun 18 March: Family Concert - Venue Cymru, Llandudno (BBC National Orchestra of Wales)
Sun 13 May: Family Concert - St David's Hall, Cardiff (BBC National Orchestra of Wales)
Tue 15 May: Ten Pieces Schools Concert - MediaCityUK, Salford (BBC Philharmonic)
Wed 16 May: Ten Pieces Schools Concert - MediaCityUK, Salford (BBC Philharmonic)
Thu 21 June: Ten Pieces Schools Concert, Royal and Derngate, Northampton (BBC Symphony Orchestra)
Fri 22 June: Ten Pieces Schools Concert – Barbican, London (BBC Symphony Orchestra)



Resources
Alongside the activities, free teaching resources are available for all 10 pieces from the Ten Pieces III repertoire to help students explore and get creative with the music over the 2017/18 academic year, including: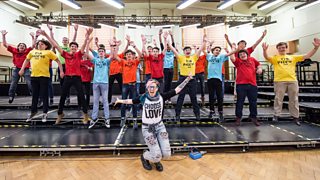 Kerry Andrew with the Ten Pieces Children's Choir


The pieces
You can download or print the repertoire list, explore the resources piece by piece, or find out more about the full set of pieces here:
Kerry Andrew: No Place Like - Commission for a cappella voices

No Place Like is a brand new commission written specially for Ten Pieces. Taking words submitted by children from across the UK, No Place Like is about home and place.

Written for a cappella voices, No Place Like showcases the amazing range and power of the musical instrument all of us are born with – the voice.
Mason Bates: Anthology of Fantastic Zoology – Sprite; A Bao A Qu

Inspired by creatures from Borges' 'Book of Imaginary Beings', American composer Mason Bates has composed a new exciting new take on Saint Saens' 'Carnival of the Animals'. Here's a contemporary and accessible piece that shows how music can conjure up ideas and pictures from our imagination.
Joseph Bologne, Chevalier de Saint-Georges: Symphony No. 1 in G major – Allegro (1st mvt)

Behind this classical symphony is an extraordinary story of a composer who took Paris by storm. A contemporary of Mozart's, Joseph Boulogne became a champion fencer, virtuoso violinist, and a famous composer and conductor in Paris. His hands wielded the foil, the bow and made music with equal skill! These achievements are even more impressive because Joseph was the son of an enslaved African woman, and was brought to Europe (from Guadeloupe) by her captor and his wealthy father.

The Chevalier was the first classical composer of African ancestry. He overcame the inherent racism of Parisian society to lead one of the best orchestras in Europe and become the person everyone wanted to be around – and known by many as 'the black Mozart'.

Symphony No. 1 in G major – Allegro: Watch the introduction film
Aaron Copland: Rodeo – Hoe-Down

Rodeo takes us to the exciting, dramatic world of cowboys, cowgirls and the American West. This piece fuses evocative music and dance. Originally composed for a ballet, the Hoe-Down features two American square dance tunes.

The music is full of vigour and energy as the cowgirls and boys pair off. This is music about real people and their folk tunes and customs; it's full of open plains, a sense of adventure and the American pioneering spirit.
Antonín Dvořák: Symphony No. 9 in E minor, 'From the New World' – Largo (2nd mvt)

This is music about place. Dvořák, who was so inspired by the folk music of his native Czech culture, wrote this symphony during his time in America, the 'new world', in the 1890s. While there – in this dynamic new land – Dvořák: was in fact very homesick for his own country.
Edward Elgar: 'Enigma' Variations – Theme (Enigma), variations 11, 6 & 7

This piece gets us to the heart of music and personality. Elgar has created little musical variations that represent his friends. After creating a theme based on his own personality (Enigma), he writes short pieces capturing quirks of his friends (6 - Ysobel), a memory of being caught in a thunderstorm (7 - Troyte) and even a challenge from his friend to make music from the sound of his barking bulldog falling into a lake (11 - G. R. S.). Elgar did just that!

These variations show how music can convey personality, an event, a memory or a moment in time - but also how the same piece of music can be changed slightly and then take on a different character completely. Events from our lives, the way we speak, the way we move, the things we like to do – Elgar shows us all of these can be conveyed in music.
Carl Orff: Carmina burana – 'O fortuna'

Fortune spins her wheel. Who will win, who will lose? Inspired by medieval literature, O Fortuna is one of the most famous choral pieces in the world. The piece gives us a chance to meet Fortuna, the Roman Goddess of Fortune (also worshipped in Greek mythology) and transports us back to medieval times.

This super-dramatic music, perhaps already familiar to children from movies and TV, still gives us the chills now – because it makes us feel that the world is bigger than us.
Henry Purcell: Abdelazer – Rondeau

Composed in 1695 Henry Purcell's Abdelezar suite takes us back to the theatres and masques (presentations of poetry, dance and music) of the late 17th Century. Henry Purcell wrote lots of incidental music for the theatre. In some ways it was used as film music is used today – to set different moods and transport us between different parts of the story.

Purcell's music influenced one of our other Ten Pieces composers, Benjamin Britten. He used this Rondeau as the basis for The Young Person's Guide to the Orchestra – another great piece for children to explore.

Rondeau: Watch the introduction film
Jean Sibelius: Finlandia

This is music about national identity. It captures not only the vast, majestic landscape of Finland but also its national pride at a crucial moment in the country's history. How does music reflect our own national identity?
Pyotr Ilyich Tchaikovsky: The Nutcracker – Waltz of the Flowers; Russian Dance

A wonderful story, The Nutcracker and the Mouse King, is transformed by music into a magical ballet – and now a Christmas favourite. A bit like a Tchaikovsky 'Toy Story', the narrative – full of wonderful characters: a beautiful prince, toy soldiers, the Sugar Plum Fairy – is enchanting and we hope the story will grab everyone's imaginations.

The two extracts from the suite are distinctive from each other and both lots of fun. They also give us the chance to look at two very different dances: the whirling 'Russian Dance', based on a Ukrainian folk dance, and the elegant 'Waltz of the Flowers'.
Find out more
Browse through all of the free teaching resources for Ten Pieces piece by piece, including exciting short films

Teachers and educators can join our email mailing list to be the first to hear updates, handy tips and opportunities