Main content
The boys in pop who made acoustic guitars sexy again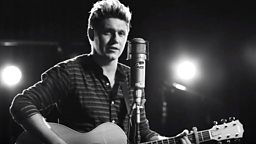 You can keep your rave horns, dubstep wobbles and trap beats, sometimes all you want to hear is a sensitive young chap singing about love with an acoustic guitar.
The charts (and Radio 1 playlist) is full of artists who sound best when they drop the swagger, ditch the production and strip everything right back.
These are the boys in pop who melt our fragile hearts with their acoustic guitars. They get us every - single - time.
James Arthur - Say You Won't Let Go
(Warning: Third party video may contain adverts)
James Arthur has revived his career - and it's all thanks this stunning song. The X Factor winner made some major mistakes and suffered from anxiety (which he has been very open about since) but he is now back at the top of the charts.
James has now re-signed with Simon Cowell's SYCO record label and is set for a very big future. That, ladies and gentlemen, is the power of the acoustic guitar.
(Warning: Third party video may contain adverts)
Niall Horan has been performing with his acoustic guitar since his One Direction days (we still miss them, FYI), so it makes perfect sense that his debut solo single, This Town, is a delicate acoustic tune.
He's currently chasing James Arthur for No.1 and we're torn in all sorts of ways over which tune we prefer.
(Warning: Third party videos may contain adverts)
Shawn Mendes is a global pop PHENOMENON but some of his best performances come when it's just him and his guitar. His Live Lounge performance of Stitches is still one of our absolute faves from the past year.
Justin Bieber - Love Yourself
(Warning: Third party video may contain adverts)
Justin Bieber made his 2015 comeback with two pop bangers (What Do You Mean and Sorry) but it was Love Yourself, the third single from Purpose that really sealed the deal and turned the final few pop fan stragglers into fully signed-up Beliebers.
He worked with someone called Ed Sheeran on the single, who perhaps knows a thing or two himself about being an acoustic pop genius.
(Warning: Third party videos may contain adverts)
Ed Sheeran did not invent the acoustic guitar, even if it sometimes seems that way.
Ed is probably the only pop star on the planet who can sell out stadium shows and perform with just a guitar, thrilling tens of thousands of people with just one instrument.
James TW - When You Love Someone
(Warning: Third party adverts may contain adverts)
James TW is one of the youngest new acoustic stars on the block, but he's already set for big things.
He's breaking hearts across the UK with his divorce-themed single When You Love Someone and he took that heartache worldwide when he supported Shawn Mendes during his 2016 tour. Not bad for an 18-year-old.