Main content
From BBC Introducing to glory: Four acts that hit the big time (and four that will soon)
We've told you many times before to upload your music to the BBC Introducing site. And here's why we're telling you again: great things can happen. Like, first of all getting to play Reading + Leeds on the BBC Introducing Stage - and then climbing up the bill on the other stages.
The first four artists featured here all started out as BBC Introducing artists and at Reading + Leeds this year made it either onto the Main Stage or NME / BBC Radio 1 Stage, which basically means they've hit the big time. Scroll down further to watch a selection of clips from the class of BBC Introducing 2016, aka tomorrow's headliners.
Honourable mentions go out to Isaac Gracie, Sundara Karma, The Vyrll Society, Black Foxxes and Fickle Friends - BBC Introducing graduates all - and all of whom had a great festival on different stages across the site too.
1. Slaves, Main Stage, Saturday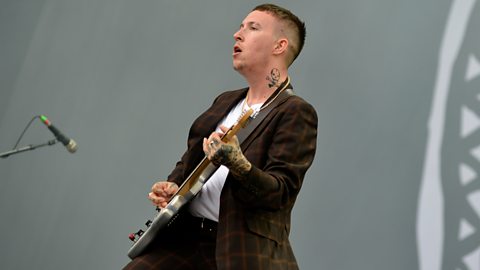 The English punk duo storm Reading with a typically energetic fun set.
The Kent two-piece uploaded their music to BBC Introducing in 2012 (at 5am!), got nominated for BBC Sound of 2015 and at Reading + Leeds 2016 made their Main Stage debut. That's not a bad trajectory. If they were nervous, you couldn't tell - they were typically incendiary, and they also popped over to the BBC Introducing stage to play a surprise set.
2. Blossoms, NME / Radio 1 Stage, Saturday
Pyschedelic-pop and indie-rock from the Stockport five-piece tipped for a bright future.
There are unbelievable scenes in this clip as Blossoms play indie-banger Charlemagne. The Stockport band formed as recently as 2013, came fourth in the BBC Sound of 2016 poll and already have an NME cover in the bag. Like Slaves, they also played a secret set on the BBC Introducing Stage.
3. Jack Garratt, NME / BBC Radio 1 Stage, Saturday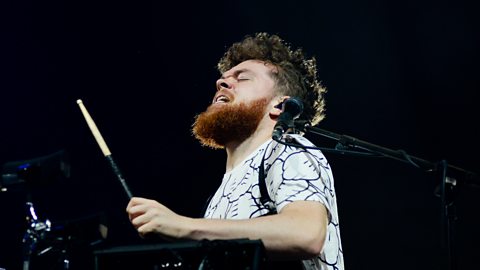 Taking the stage by storm with a blend of music styles from electronica to R&B.
BBC Introducing and Jack G go way back - all the way to 2012 - and since then it's been a case of holding on tight as he's shot to fame. The BBC Sound of 2016 winner headlined the BBC Introducing Stage at Reading + Leeds in 2014 and was superb this year on the NME / BBC Radio 1 stage, performing in a fetching pair of dungarees.
4. Spring King, NME / BBC Radio 1 Stage, Sunday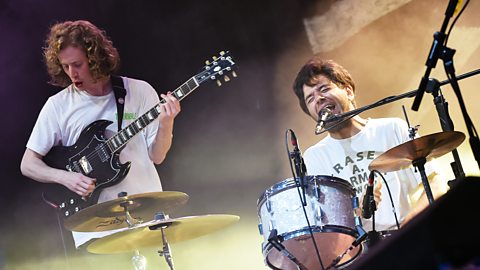 Art-pop meets punk with this Manchester four-piece, discovered through BBC Introducing.
Mancunian post-punk four-piece Spring King are truly a new band to get excited about - a stand-out group of the BBC Introducing SXSW Showcase last year. They now have a debut album out, and they clearly had the time of their lives playing Detroit on the NME / BBC Radio 1 Stage on Sunday. Watch as they climb and climb festival bills over the next few years.
And now, four bands that played the BBC Introducing stage this year and left a serious mark. Keep your eyes on this lot, they're going places:
1. Strong Asian Mothers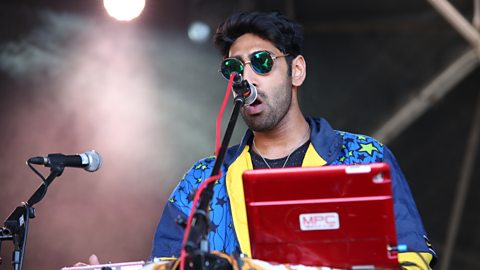 Performing live on the BBC Introducing Stage on Friday
3. The Shimmer Band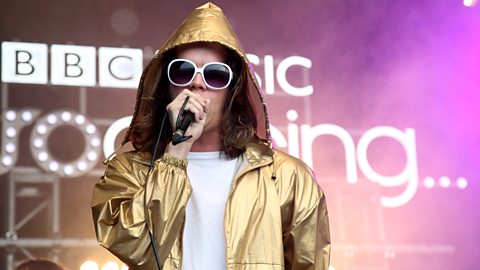 Performing live on the BBC Introducing Stage on Saturday