Main content
Good Omens Facts, Stats and You
For Terry Pratchett's and Neil Gaiman's fantastical prophecy to materialise we needed you! Here's a compilation of facts about the book and the drama, plus listener comments.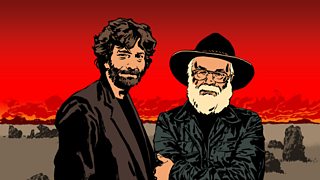 Its full title is: Good Omens: The Nice and Accurate Prophecies of Agnes Nutter, Witch.
First published in 1990.
Written by Neil Gaiman and Sir Terry Pratchett.
At their first meeting, they hit it off instantly over a Chinese meal, although Terry thought Neil had 'bad hatitude' - a dodgy hat.
They kept in touch. Neither author was well-known at the time.
Neil sent Terry an early draft of Good Omens that he'd been working on.
About a year later, Terry got in touch and they began writing it together - it involved floppy discs (remember them?) being sent back and forth and lots of chats on the phone.
The first ever dramatisation of the book was broadcast during the week of Christmas, 2014...
Some facts about the cast:
The total number of actors is 37 (not including the 11 cameos, more of that in a bit).
The cast first got together in September 2014 for a gigantic script read-through.
The two lead roles are played by Peter Serafinowicz, as the demon Crowley, and Mark Heap who is Aziraphale, an angel who likes cocoa.
Collectively the cast have starred in numerous cult TV and film hits including Sherlock, Quadrophenia, Guardians of the Galaxy and Spaced.
The recording of the drama took seven days.
A selection of lines from the drama.
There are 11 cameos in Good Omens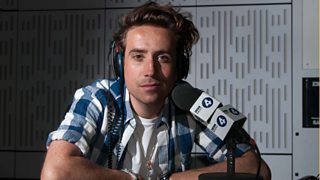 Martha Kearney
Jane Garvey
Eric Robson, Bob Flowerdew, Pippa Greenwood from Gardener's Question Time
Plus an appearance from the authors...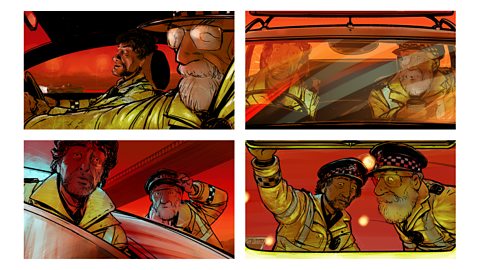 Two coppers get a shock when they attempt to stop a speeding car belonging to a demon.
Some of the best bits of Good Omens came from you:
We ♥ this listener who sketched the drama as she listened:
As for this chase down the phoneline… this could ONLY happen in radio surely?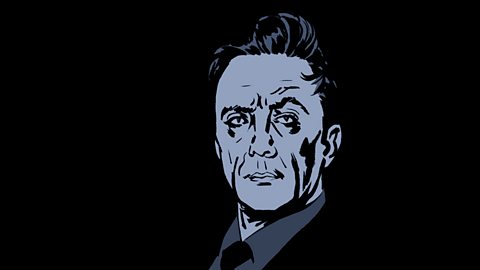 A surreal, sonic excursion as demon Hastur chases Good Omens' Crowley down a phone line.
A big thank you to all involved but especially to you for listening