Main content
Small world: The miniature model-makers who are hugely creative
13 May 2019
Life in Miniature, a new short film by Ellen Evans, focuses on miniaturist Kath Holden, who makes incredible scaled-down models of everyday objects like mobility scooters, deep fat fryers and meat platters. Watch the film and find out more below - and if you're feeling inspired, the Get Creative Festival has events all over the UK where you can try your hand at something creative.
The BBC is not responsible for third-party content
When filmmaker Ellen Evans was commissioned by the Sheffield Documentary Festival to make a three-minute short, she decided that the world of miniatures would be an ideal subject. She says: "Given the constraints of the brief, I thought it would be fun to make a short film about small things."
Instead of the focusing on the craft involved, Evans wanted the miniatures to be used as a storytelling device, but knew this approach would require a strong character at the centre of the film – which is where Kath Holden came in.
After drawing up a huge database and contacting doll's house makers and miniaturists across the UK, Evans knew Kath was the perfect subject for Life in Miniature. She says: "Kath stood out not only for her deadpan humour but because she's open and honest and finds meaning in what she does."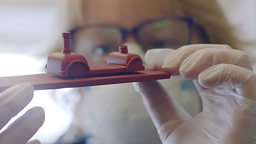 Kath Holden examines a cast of the base of a mobility scooter | All images © Ellen Evans / Delph Miniatures

A hospital bed and drip; a camera and tripod – Evans' personal favourite; and an ironing board and iron.
Delph Miniatures – established in 1991 – is run by Kath and her mum Margaret.
Miniatures are used to tell stories – and for a filmmaker that's a gift

Ellen Evans
As well as being a great subject for her film, Evans believes the collectors' items that Kath produces stand out from those made by other miniaturists.
She says: "Kath's miniatures are a direct representation of her own experiences and what she sees in her everyday life in Bradford.
"Kath talks about how miniatures are a way for people to represent a world; either an aspirational one 'they can't afford in reality' or the world as they themselves experience it.
"Miniatures are used to tell stories – and for a filmmaker that's a gift."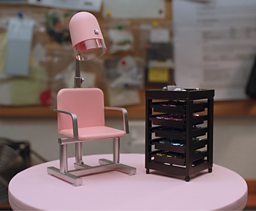 Hooded hair dryer and other salon paraphernalia.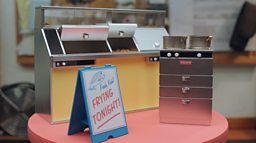 A deep-fat fryer, sandwich board, and drawers found in a chip shop.
Given Life in Miniature's distinctively British sense of humour, Evans was curious how the film would go down abroad.
But she says: "It actually seems to have gone down well – it played at Sundance and SXSW and then a host of film festivals across the United States."
Evans is now working on new projects – including a short film funded by the BFI called Country Girl. She says: "It's a markedly different tone to Life in Miniature, so it'll be interesting to see how it's received."
More from Get Creative Festival