Main content
Six solid reasons Deep Purple are the ultimate rock band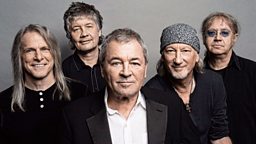 As the legendary British rockers prepare for their performance at Radio 2 In Concert, we take a look at why Deep Purple might just be the world's ULTIMATE rock act. The evidence is compelling, we think you'll admit.
1. They were the loudest band in the WORLD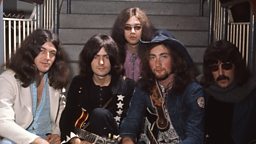 Together with Led Zeppelin and Black Sabbath, Deep Purple made up the "unholy trinity" of British hard rock and heavy metal during the genre's 1970s golden age.
In 1972, Deep Purple were cited as the world's loudest band by the Guiness Book of World Records for a concert at the London Rainbow Theatre. The story goes that tree of their audience members lost consciousness due to the decibel levels, which makes us feel a bit better about not being there. We can promise that their performance at Radio 2 In Concert, however raucous, will be well within safe hearing levels!
2. Their riffs are so good it's positively criminal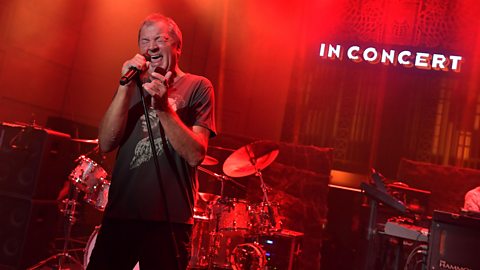 Watch Deep Purple perform Smoke On The Water live in the Radio Theatre for Radio 2.
Smoke On The Water, from Deep Purple's 1972 album Machine Head, is famous for having one of the best guitar riffs EVER. In fact, the track came fourth in Radio 2's Greatest Guitar Riffs chart.
As revealed in the lyrics of the song, the hit was recorded in the nearly-empty Montreux Grand Hotel, on the shores of Lake Geneva - but the process wasn't without its difficulties.
"We did the whole thing in about four takes because we had to," founding member Ritchie Blackmore told Radio 2. "The police were banging on the door. We knew it was the police, but we had such a good sound in this hall.
"We were waking up all the neighbours for about five miles in Montreux, because it was echo-ing through the mountains.
"I was just getting the last part of the riff down, we'd just finished it, when the police burst in and said you've got to stop.
"And we said 'alright, we'll stop,' - but we had the track down.'"
3. They sold a lot of albums. A LOT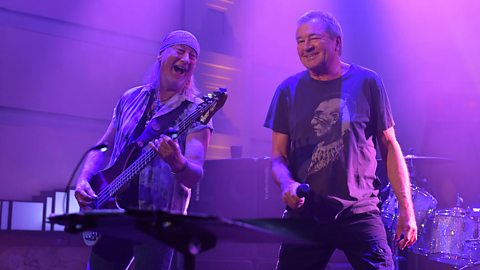 Watch Deep Purple perform All I Got Is You in the Radio Theatre for BBC Radio 2.
(Warning: Third party video may contain adverts)
These days, if a band shifts a few hundred thousand copies of their new record, it's a huge success. Deep Purple on the other hand, have sold more than 100 million albums during their career, although even the band themselves can't quite agree on the exact number.
They think it's close to 150 million, which I found slightly ludicrous

Don Airey
"My publisher tells me they think it's close to 150 million, which I found slightly ludicrous," said keyboardist Don Airey while promoting 2017 album Infinite.
"But if it's true, it's pretty amazing."
Ian Paice says he believes the number falls somewhere "more than ten and less than 500 million."
Glad we got that cleared up lads. Whatever the exact number is, Deep Purple have sold a lot of records during their 49 year career.
4. Deep Purple influenced some of the world's biggest rock groups
(Warning: Third party video may contain adverts)

Name a major rock band from the last four decades and you'll almost certainly be able to trace things back to Deep Purple.
They've been credited as an influence for the likes of Queen, Metallica, Aerosmith, Bon Jovi, Alice In Chains and many more of the most iconic rock bands of our generation.
"Deep Purple were in a different league for me," said Metallica's Lars Ulrich in an interview with an online fanzine.
He says his love for the band comes from how they'd always change things up at their live shows, something he says doesn't happen often in the modern rock scene.
"Every single live version is different," he said. "Richie plays different solos, Ian sings different phrases, and Ian Paice plays different drum fills.
"It's the coolest thing because you never know what's coming next and for me, that's one of the most missed things in rock and roll."
Eddie Van Halen named Burn by Deep Purple as one of his favourite ever guitar riffs in an interview with Billboard magazine while the late, great Lemmy from Motorhead said without Deep Purple he may never have got into the music industry.
"Jon Lord was to a large extent responsible for me being in rock and roll," Lemmy told The Boston Phoenix in 2012.
Lemmy says Lord convinced him to move to London, where his career took off and he followed Deep Purple into the rock and roll history books.
5. They've been on the road for the best part of 50 years
(Warning: Third party video may contain adverts)
Deep Purple took a (well deserved) break between 1976 and 1985 but considering the work they've put in during the years on either side of this, we can't begrudge them a 9 year holiday.
It will end, but we don't want to face that

Roger Glover
They have toured 29 times since 1968, with several tours keeping them travelling for two or three years.
Their current tour, The Long Goodbye Tour, is rumoured to be their last, but the band are yet to confirm whether this is the case.
"No one wants to stop," said bassist Roger Glover in an interview with Billboard earlier in 2017.
"The time is approaching when it will end, but we don't want to face that. We don't actually want to make a date or a final tour or anything.
"We just want to carry on as long as nature allows or is kind of dignified. If we can't do what we do anymore, then yes, it's time to stop.
"But we're still doing it, and we're still enjoying it very much. So all we're saying is the door is closing, but it's not closed yet."
6. Oh, and they're playing a special show for Radio 2
Don't worry if you didn't get tickets for one of the band's five stadium shows on the UK leg of The Long Goodbye Tour, they're performing a special concert for Radio 2 listeners this week.
You can listen live from 8pm on Thursday 16 November 2017, or watch live on the Red Button on satellite or cable.
And if you somehow miss the show, you'll be able to watch it right here shortly after broadcast.