Main content
Clothes to Die For
By Director Zara Hayes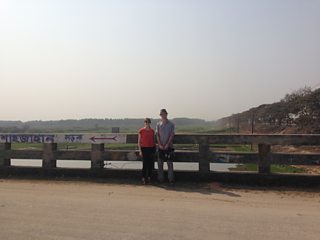 Producer Zara Hayes and Director of Photography Patrick Smith
We always knew that our focus for this film was the people who had worked inside the Rana Plaza, giving them a voice and being true to their experiences.
Since the tragedy in April last year, there have been important debates in the world's media about some of the wider issues that Rana Plaza highlights: safety and working conditions in Bangladesh; the responsibility of international brands to their suppliers; the extent of consumer awareness. All of these are very important, but we felt that there was a space for a film that got to know the survivors of the Rana Plaza tragedy more intimately, to let them tell the story in their own words. We also decided that this shouldn't only be the story of the tragedy itself; we should aim to paint a broader canvas, and to understand how these people came to work at the Rana Plaza and what motivated them to work in the garment industry. I've always wondered what garment workers think of the clothes they make for international consumers – do they laugh at them or wish they could buy them? Do they know or imagine where the products of their labour end up?
I worked closely with producer Sarah Hamilton, who recently produced the BAFTA-winning BBC documentary 7/7: One Day in London. From that project, she had notable experience in working with people who have been profoundly affected by a tragic incident with such a sensitive subject matter. After a period of research and pre-production in the UK, we spent just over 5 weeks in Bangladesh. We decided to spend our first three weeks meeting and talking to people, and trying to really understand how best to tell the story, from on the ground. We then had an intense two weeks with our DOP, Patrick Smith, who flew over from London to film.
None of us had ever been to Bangladesh before, and we'd heard that it is quite a difficult country to navigate as an outsider. Indeed, our trip was pushed back because of the protests and upheaval around the elections in January. We recruited two top local fixers, one of whom was a journalist for a major national paper in Bangladesh and the other who has worked extensively with the BBC Dhaka Bureau. It's a cliché but a hard truth: they were invaluable.
One of the major challenges is how you choose subjects for a film like this. With such a huge tragedy, the number of people involved far outweighs the number you could interview, so streamlining is key; it is important to select people whose stories represent a wider truth.
Bangladesh is a whirlwind of a country. People are always on the go, and everywhere we went was packed. This is incredibly motivating, but unfortunately the rumours about Dhaka's traffic are true: it wasn't uncommon to spend 7 hours a day in the car - even if we were just travelling a few kilometres. The slow pace of movement meant that I spent a lot of time looking outside the car window, watching the frenetic pace and vivid colours of Dhaka or Savar crawl by outside.
One of the things that sticks out most in my mind is that every single person, no matter how rich or poor, no matter where they lived, offered us food and drink in their home. It is Bangladeshi custom to welcome guests in this way.
Meeting survivors and families of those who were killed was incredibly intense and emotional; most people had never spoken to a foreigner about their experiences at the Rana Plaza. We met them in their homes and explained the project fully and gave them time to decide whether or not they'd like to contribute to the film before we invited them for filming.
We decided that we'd interview people using something known as an
"Interrotron", which is a technique pioneered by documentary maker Errol Morris. This allows contributors to talk directly to the camera lens, as if they're talking directly to the viewer. We felt that this decision gave their testimonies an engaging, immediate quality that is often lost in documentaries where people are speaking a foreign language.
With every person we met, we gained more of a sense of the levels of complexity inherent in telling a story as rich as this. Research meetings with factory owners gave us an understanding of how difficult it can be running a business in a developing country, when international retailers are incredibly demanding about keeping costs down, and the only place to really increase your profit margin is if the labour force can be more productive for less money. I began to see that it isn't as simple as consumers being prepared to pay more for clothes or retailers being prepared to make less profits; it's also about retailers being prepared to work with their suppliers in the longer-term and engage with them more meaningfully about the challenges of operating in that context. I also saw first hand the value that people place on working in the garment industry, and realized what would happen if international brands turned away from Bangladesh because of incidents like Rana Plaza: it would be catastrophic for the country's economy.
For me, the most difficult experience was visiting Jurain Graveyard in Dhaka, where the unidentified bodies from Rana Plaza were buried. It's hard to comprehend the scale of an event like Rana Plaza by hearing numbers, but standing in front of these unceremonious mounds marked with a number on a simple ID board, I was confronted by the sheer scale of human loss. Every single one of those mounds contained someone's sister or brother, daughter or son, mother or father. And the fact that in a year only half of the bodies there have been identified means that there are over 100 families who still haven't been able to visit their family's grave. I was angry that the government chose to locate the graveyard far away from where most families live. We found it hard to find it and get there, with two fixers and two brilliant drivers - how are a poor rural family meant to make it there with their limited means? I met a gravedigger, Manik, who told me that locals and volunteers had dug the graves for no pay. When I asked why they'd worked for free, Manik replied that he felt compelled to "…out of humanity". His words will stay with me forever.
I thought I might come home and vow to never shop on the high street again. On the contrary, I smile when I see something "Made In Bangladesh", and I just hope that what happened at Rana Plaza was a turning point for the international community and for the common humanity that Manik spoke of.