Main content
Join in with BBC Weather Watchers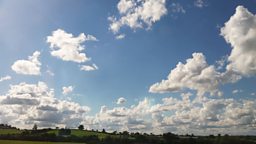 BBC Weather Watchers is an online crowd-sourcing weather club for everyone over 16 who wants to join the nation's favourite conversation and help tell the story of the UK's ever-changing weather.
You can be a Weather Watcher using a PC, mobile or tablet. To get started, go to the Weather Watchers Site at www.bbc.co.uk/weatherwatchers
How to get started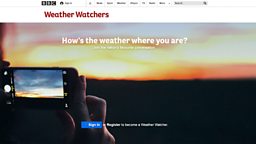 Click "Sign In" if you have a BBC ID already or "Register" if you are new to BBC iD.
Register for BBC iD (if not already registered)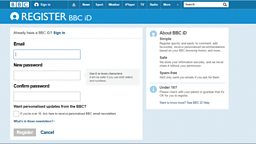 To register for BBC iD, fill out the fields with your email and chosen password. Then click "Register" (If you haven't got an email address, your local librarian can help you set one up). You should now see this screen. You'll need to follow the instructions and check your email. You should now have an email in your inbox from noreply@bbc.co.uk. Please click on the link titled "Confirm your email address".
Set up a Weather Watchers profile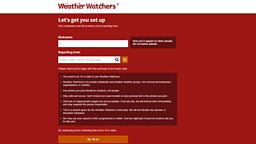 You will now be taken to the set up page. Choose your username and fill in the fields. Please then read the rules and check you are happy and over 16 and click "OK I'm in". Congratulations! You will have now set your profile up.
Top tips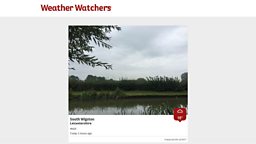 Here are some useful tips from expert Michael Pritchard FRPS, the Royal Photographic Society.
Choose your subject
Choosing your subject or landscape beforehand means you can pre plan your shot and maybe even choose a particular time of day to capture it. Sometimes checking sunset and sunset times and thinking of where the sun will be can add to your shot. Although, you may just be in the right place at the right time!
Try and seek out something different or distinctive
Think about interesting ways to show the weather where you are. Remember a great photograph is all about light and how you capture it, in conjunction with the type of weather you are showing. A well-known landscape will probably have been photographed many times, so perhaps find somewhere less obvious.

Structures or natural features can help to give an idea of scale

Try to include a natural feature or building to give the viewer an indication of scale. You can use these to emphasise the weather phenomena.

Have your equipment ready

Keep your smartphone or camera handy - you never know when you might see a good shot! You could even use additional equipment such as a tripod or other specialist accessories to get the perfect shot.
Don't put yourself at risk
Stay safe! Keep your distance from crashing waves and don't take any risks. Dramatic weather can make for a great photograph but if you are outside in poor weather, particularly in remote areas, take care so you do not put yourself at risk. Don't forget to protect any equipment too.
Good luck weather watching!
Get started with the BBC micro:bit