Main content
How to write a song with PJ Harvey
Considered to be one of the greatest films of all time, the classic 1950's melodrama All About Eve deals with fatigues of fame, the destructive nature of power and the prejudices of age when it comes to female performers. So, it appears to be the perfect piece of entertainment to revive in these image obsessed, fame hungry times.
Acclaimed director Ivo van Hove's new production, starring Gillian Anderson and Lily James in the roles made famous by Bette Davies and Anne Baxter, is one of the most highly anticipated theatrical events of 2019. But there's another reason to get excited for this stage adaptation.
PJ Harvey, the only artist to win the Mercury Prize twice, has not only written the score for the production, but has also penned two brand new songs for the show's stars to sing. And John Wilson watched Polly Jean create these original pieces, revealing her own distinct process when it comes to making music. Here are just some of the elements she uses when creating a song…
1. Stay old school
Despite the immediacy and ease associated with modern, digital recoding, Polly still likes to use some decidedly old school equipment when it comes to making demos. These include a huge array of analogue instruments plus a creaky Tascam cassette four-track recorder: "I love the sonic glue that it gives things. It's got a hiss and has character."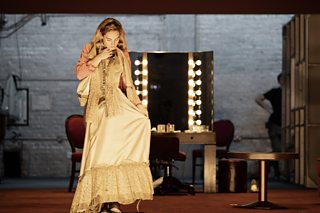 Lily James on stage in All About Eve. (Photo credit: Jan Versweyveld)
It's become the foundation of my character, the root. It's been so instrumental in how I found out who Eve is.

Lily James on PJ Harvey's song for Eve
2. Move quickly
Once she has been inspired and has worked out the basic elements of the song, Polly writes and records demos incredibly quickly, for a very particular reason. "I can't stand faffing about. You've just got to get it done. You're finding your way through by listening and feeling and after a couple of takes you've lost that. You start getting too precise and all of the soul goes out of it."
3. Explore the outer limits
Once a song is shown to work in its simplest form, Polly feels it's important to try more left-field ideas and elements to develop it further. Whilst developing the score for All About Eve, she encouraged a drummer to cut loose: "We got him to do a free jazz solo over the entire track – It was absolutely mad. It was so exciting. The whole building was shaking. It was unbelievable. It was beautiful."
4. Make it a story
The songs created for All About Eve aren't just there for entertainment, but provide a vital window to the nature of the characters on stage, and compliment their story. This narrative approach has always been important to PJ Harvey's songwriting: "I've always loved stories. Loved narrative. So to make the music reflect the narrative and match it perfectly at that moment… when you do start getting that right, it's a great feeling."
5. Trust your gut
Polly approached the play's director Ivo van Hove about collaborating, but discovered he wasn't willing to offer specific instructions for the music. "I realised quite quickly he's a man of few adjectives," she told John Wilson, "I was trying to get a feel of what he wanted. But then it seemed to me that he wanted me to go with my gut."
Polly has always travelled outside of her comfort zone when it comes to her career and her songs, trying out new approaches and ventures while using her instincts for navigation. "I've done this half my life. Do I want to continue this way or do I want to try something different?... I think a lot of it is having that faith to tune in and listen to that gut instinct."
6. Be influenced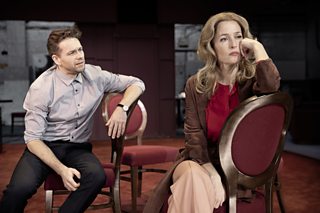 Julian Ovenden and Gillian Anderson on stage in All About Eve (Image credit: Jan Versweyveld)
Franz Liszt's Liebesträume plays an important part in the film version of All About Eve, with the main character becoming slightly obsessed with the song. Rather than use the piece in the play, Polly intended to write a new song for the character, Margo Channing (played by Gillian Anderson), to sing on stage. But rather than move away from the Liszt piece, she made it an integral part of the song.
"I proposed to Ivo that I would start by looking closely at Liebesträume – I then decided I was only going to work in the keys that it's in. And then there are certain motifs in the piece that I just reference. There's a double hit on the piano, a staccato piece, glissandos… I wouldn't copy them because I can't. I can't play them. So I'm riffing on Liszt."
7. Set them free
When she is making music for her own albums, Polly has full control. But when she is collaborating and writing songs for others to perform, as with All About Eve, then she knows she has to allow the performers to add their own stamp on her creations.
"As a songwriter, you write the song. But the moment it leaves you, it no longer needs you and it becomes its own. It moves away from you. And I've watched that little song that I made move away from me and become their characters' song."
More from Radio 4
John Wilson follows PJ Harvey as she creates the score for a new West End theatre production of All About Eve.