Main content
Give a laptop
Last summer local BBC radio stations helped members of the public donate thousands of old laptops and tablets for schoolchildren to use. For those pupils, who were sharing phones at home while learning in lockdown, it made a huge difference.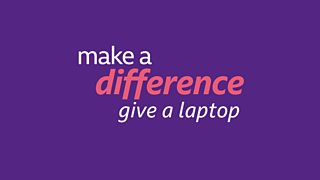 When schools closed in the latest lockdown, we once more asked you to help those pupils still in need and we've been working to join the dots between your devices and the children who may need them the most.
Schools tell us that the need will still be there even when all pupils are back in the classroom and so we are continuing to share details of companies and charities who can help us achieve our aim of getting devices to pupils.
Some charities can collect, wipe and share the laptops all in one; some can help take your devices off your hands to fix them ready for distribution; some are collecting donations to help fund devices for pupils; some are local to specific areas and some are nationwide across the UK.
Since launching our latest campaign, with your help, we've had over 46,000 devices donated and a further 70,000 devices have been pledged by businesses including 2,000 laptops donated by the BBC. There has also been £917,890 donated to charities and schools, from local businesses, trusts, individuals and foundations and 2,000 items of data support donated as a result of the campaign.
Getting pupils online
We are hearing that data access is as important as access to a device for some households. So, In addition to laptops, we also want to do everything we can to help connect people to data.

As part of our campaign, we have invited the various mobile phone networks and operators to donate wifi dongles and data SIM cards to enable families with no or limited internet access to get online for home schooling.
Vodafone have donated an initial 1,000 dongles and Lycamobile have also pledged 1,000 data SIM cards. They will be distributed to schools across England, Scotland and Wales via the charity Business2Schools. We hope to add to this list as the campaign continues.
If your school would like to apply to receive either dongles or SIMs from these donations, please contact Business2Schools via this link.
How to donate a device
Please DO NOT bring donations to BBC sites as we are unable to accept them.
If you have something you'd like to donate – and that could be a laptop; computer; mobile phone or tablet – please click on a link below to find out more about the campaigns we've been informed about.
The websites below will provide information on how to donate; what equipment is required and whether they can help with removing your data. If they can remove your data, make sure you're happy with their process before you donate.
Find out about companies and charities who are able to help
Around the UK

Business In The Community - Will accept donations from business across the UK, to be matched with requests on The National Business Response Network.

Business2Schools - Links businesses and individuals with schools in their area that are accepting donations. This covers much of the UK.

Computer Aid - Will accept donations from businesses across the UK. They also offer a free collection service anywhere in the UK to individuals donating laptops.

Hubbub & O2 - Accepts donations of old mobile phones from across the UK.



LetsLocalise - Links businesses and individuals with schools in their area that are accepting donations. This covers much of England.

The Restart Project - Links to campaigns across England, Scotland and Wales that will accept donations for students and other people in need of a device.
North
South and London

Bridge The Gap - Will accept donations from Hackney and nearby areas in London.

Community Laptops - Will accept donations from individuals and businesses from across North London.

Computers for Charities - Will accept donations which are 7 years old or less in the South East of England area, mainly from businesses.

Green Machine - Will accept donations at drop-off points in Berkshire, Dorset and Wiltshire.

ITVET Laptops for School - Refurbishes laptops donated by businesses and the local community in Bedfordshire, Buckinghamshire, Essex and Hertfordshire.

Mer-IT - Accepts donations from businesses and individuals across the UK, with particular emphasis on London.

Richmond Rugby - Will accept working laptops and tablets in the Richmond area.

Tech Takeback - Will accept donations in the Brighton and Hove area.
East and East Midlands
West and West Midlands
Scotland
Wales / Cymru
Northern Ireland
FAQs
How do I clear data from my device?

We recommend that you remove any personal data and information before donating anything. We are unable to advise on specific tech information for your device. Here are some places who may be able to help:

Computer Aid can remotely wipe hard drives prior to donation.
How to access a device?

If you're a school or training professional who would benefit from receiving a donated device, we've listed below some schemes that will help:
Can I leave my home to donate a laptop?

Please follow the Covid-rules in your area before making any trips outside your home. You can find the latest information on the Government website www.gov.uk/coronavirus.
Learning at home
Resources and programmes on BBC iPlayer to support learners, teachers and parents.
Charities accepting cash donations (no devices)