Main content
Nominate someone for BBC Radio 1's Teen Heroes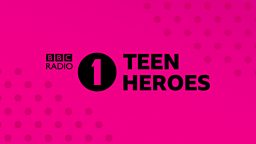 Radio 1 is looking for amazing undiscovered Teen Heroes, so if you know someone who inspires others, shows courage and bravery or makes a difference in their community we want to hear from you.
You have until 9pm on Sunday 8th September to place a nomination, and don't forget to read the full terms and conditions below before filling out the form.
BBC Radio 1's Teen Hero Award celebrates the selfless, brave and exceptional achievements of someone aged 12-17 who:
Make a difference in the community & Inspires others
Show courage and bravery
Has overcome difficult times
Are brilliant fundraisers, spends time campaigning or volunteers
Are ambassadors for good things
Who always go the extra mile!
We will shine a light on these undiscovered Teen Heroes and make sure they get the recognition they deserve, but we cannot do it without your help in letting us know who they are!

1 | In order to nominate someone, you must be a UK resident (including Channel Islands and the Isle of Man) and not be a BBC employee, employee of any of its affiliates, close relative of any such employees or connected to the awards competition directly or through a close relative.
2 | Any UK resident (including Channel Islands and the Isle of Man) aged between 12 and 17 by 1st October 2019 is eligible to be nominated, except BBC employees, employees of any of its subsidiaries or affiliates, close relatives of any such employees or connected to the awards competition directly or through a close relative. Proof of age, identity and eligibility may be requested.
3 | Nominations can only be made online by accessing www.bbc.co.uk/radio1 from the 28th July 2019 and must be received no later than 21:00 on 8th September 2019. Any nominations received after this will not be accepted. You should not submit personal data relating to another individual without first obtaining the permission of the nominee's parent / guardian. We will contact the nominee's parent / guardian as part of the application process to obtain directly their permission to the nominee being considered for an award. For what is considered personal data please visit the BBC's Privacy and Cookies.

4 | You are required to provide an email address and contact number for your nominee's parent / guardian.
5 | If you are under 16, you should get your parent/guardian's permission to make a nomination. Please enter your parent or guardian's contact details in the form so we can check this permission.
6 | The criteria to qualify for nomination are as follows and must have been met by the nominee sometime between 11th June 2018 – 27th July 2019.
The nominee must have acted in one or more of the following ways:
(i) acted selflessly,
(ii) inspired others,
(iii) acted with courage and bravery, or
(iv) ensured a positive outcome for an individual, family member or their community.
7 | The BBC Radio 1 team will contact the nominee's parent / guardian to obtain their consent to the nominee being considered for an award. Both the nominator and nominee (or their parents/ guardians, as applicable) may also be contacted to verify facts and/or events. This should not be interpreted as anything other than an information gathering exercise.
8 | Further on-going research will be undertaken by the BBC Radio 1 team. The nominee (or parent / guardian of the nominee, as appropriate) may be contacted and asked for relevant contacts to assist this research. The BBC reserves the right to disqualify a nominee if such contacts are not provided.
9 | The BBC Radio 1 team will select a shortlist of no more than 12 finalists to present to the judging panel who will select the winner(s). Nominees who have made it to this stage in previous Teen Awards will not be eligible for consideration in this year's Awards. The 12 (or fewer) finalists will be invited to attend a London location on 1st October 2019.
10 | The judging panel will be made up of Radio 1 DJs who will select up to 3 winners based on the criteria stated above.
11 | The shortlisted nominees and the person who nominated any shortlisted nominee will be required keep selection confidential. The winners will be selected and notified and all winners must agree to keep details of the award confidential until after the public announcement. This may require agreeing to BBC-standard confidentiality agreements.
12 | The finalists will be publically announced on Radio 1 by 15th December 2019 and all winners will be asked to accept the award in person at the Teen Awards in London in November 2019.
13 | The BBC's decision as to the winners is final. No correspondence relating to the awards will be entered.
14 | Each of the winners will receive the Teen Hero Award. There are no prizes, no cash alternative and the award cannot be sold or transferred in any circumstances. Unless stated otherwise, no costs, charges, fees or expenses shall be covered by the BBC.
15 | Nominees must agree to take part in any post-award publicity if required.
16 | Winners and their nominators will be recorded with the intention of broadcasting those contributions on TV and radio as well as using them on all other platforms including online. The winners and their nominators will be expected to confirm agreement to this in writing by signing standard contributor release forms (or their parent or guardian signing on their behalf).
17 | The BBC reserves the right to: (i) vary these Terms and Conditions, including but not limited to the opening times of the awards; (ii) disqualify any nominee who breaches the rules or has acted fraudulently in any way; and (iii) cancel the awards, at any stage, if in its opinion it is deemed necessary or if circumstances arise outside its control.
18 | The BBC, its sub-contractors, subsidiaries and/or agencies cannot accept any responsibility whatsoever for any technical failure or malfunction or any other problem which may result in any nomination not properly registered.
19 | Where relevant, these awards accord with the BBC's Code of Conduct for Competitions and Voting, details of which can be found on the BBC's Editorial Guidelines.
20 | Winners must not make reference to their receipt of such award unless in a form or after a date approved in writing by the BBC. Any breach of this clause may result in disqualification or revision of the award.
21 | To the extent permitted by law, the BBC will not be liable for any loss or damage (whether such damage or losses were foreseen, foreseeable, known or otherwise) including financial, reputational loss or disappointment.
22 | The promoter of the awards is the British Broadcasting Corporation and these terms and conditions are subject to the laws of England and Wales.

Your trust is very important to us. The BBC is committed to protecting the privacy and security of your personal information.
It is important that you read this notice so that you are aware of how and why we are using such information. This privacy notice describes how we collect and use personal information about you during and after your relationship with us, in accordance with data protection law.
Additional information can be found in the BBC's Privacy and Cookies Policy. Where there is inconsistency between those documents and this notice, this notice shall prevail. You can find out more about your information and privacy here.
What will we collect and how will we use it?
The BBC will collect and process the personal information that you have provided to us about yourself and the individual that you have nominated for an award. The personal information that we will collect includes: your name and contact details. We will disclose your name to the nominee's parent / guardian when we contact them. I in relation to the nominee, we will process their name, email address, photograph, and information about what they do and why you believe that they deserve an award.
The BBC is the "controller" of this information. This means that the BBC decides what your personal information is used for and the ways in which it is processed.
We have a legitimate interest to process the personal information that you provide to us: to connect with our audience, consider the nominees for our Teen Hero Awards and deliver our competition. We have carefully considered the impact on your and will not use your personal information where the impact overrides our interests.
We will review the applications and create an initial shortlist. We will contact the nominee's parent /guardian using the contact details that you provide to us. Their nomination will only proceed with their parent / guardian's permission.
How long will we retain your information?
We will promptly review and delete any unsuccessful nominations, including if the nominee's parent / guardian does not want to proceed. We will retain the finalists name and their contact details until 31st December 2020.
Sharing your information
The entry form is hosted and provided by a third party supplier on behalf of the BBC. If your application is shortlisted, it will be shared with a panel of judges consisting of Radio 1 and 1Xtra DJs, artists and previous winners.
Your rights and more information
If you have any questions about how the BBC handles your personal information, or you wish to find out about your rights, please visit the BBC's Privacy and Cookies Policy. You will also be able to find out more information about how the BBC processes your information and how you can contact the BBC's Data Protection Officer.
If you raise a complaint with the BBC about the way it has handled your personal information, you are entitled to lodge a complaint with a supervisory authority. In the UK, the supervisory authority is the Information Commissioner's Office (ICO), which can be contacted here.