Main content
Top tips to create a private paradise in your garden.
BBC Two programme Your Garden Made Perfect sees designers transforming tired gardens into idyllic wonderlands. Here's their advice about how to create your own backyard paradise.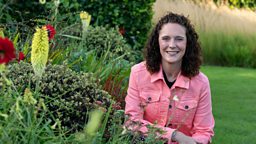 Pip Probert
Creating a private paradise
Privacy is an issue for many people and although boundary fences or walls may already be in position, they're often not enough. Screens can be used to create a contemporary statement as well as disguise the view from onlooking neighbours. Rather than mounting on the boundary fence or wall, bring them into the space – this way they become part of the garden. Climbing plants can be used to soften them and create a denser effect. By bringing the feature into the garden you can disguise more of a particular area, rather than raising the boundary height.
Whether you are trying to create privacy from onlooking windows or create a hidden seating area, a larger feature plant can play an important role. The larger the plant the more costly it becomes, but there are various price brackets depending on budget and how instant you wish the effect to be. Selecting a single mature plant in worth spending a little more on as you are creating a focal point and also as a practical feature. Try to pick something that will block the view so that you are also creating intrigue as you walk around your garden plot.
Bring wildlife into your garden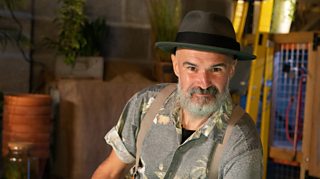 Joel Bird
When designing my gardens nature is always on my mind. Nothing is better for introducing wildlife into a garden than water. Frogs, toads and newts will move in and if you introduce aquatic plants then damselfly and dragonfly will lay their eggs. If you have insects in your garden then more species will move in to feed off the insects, before you know it you will have introduced an ecosystem. Nature enjoys a variety of habitats and sometimes this means letting things go a little. Think about having different zones, a woodland area with rocks and logs for beetles, a mini beast mansion for hibernating bumble bees. Let your grass grow long in places, better still introduce a wildflower area. Choosing native species of plants will also help native species of insect because they have evolved together. And finally spend as much time as you can in your garden, the more time you are there the more you will connect, it is the connection to nature that brings the most joy of all.
Gardening on a budget
I have often gardened the most when I have been at my poorest. There are always things you can do with a limited space or budget to transform a garden, remember nature doesn't know or care how much money you have spent. In the past I have used old tyres, plastic drains or tin baths to grow in.I would recycle old wood to make benches, use pallets to make wall planters and even when I didn't have a garden I would always have a window box. In terms of plants, growing from seed or buying young plants is the cheapest way to garden and it is more fulfilling, because you get to nurture them and witness them develop into mature plants. Simply creating a place to sit with green plants around you is one of the most valuable things a human being can do in this world.
Right patio, right place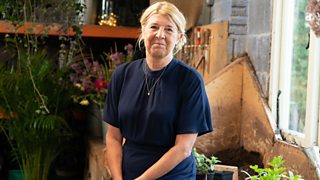 Helen Elks-Smith
Gardens are mostly about spending time outside, being 'in' the garden, the key element the green stuff. Yet often patios are up against the house and you sit 'next' to the garden rather than 'in' it. Back in the house you look out over furniture pushing the garden further away. So where to site your patio? When do you spend time in the garden – midday or evenings? The light will fall in different places at different times of the day and this changes from winter to summer. Find where the light levels are lovely in March/April and again in September. Site your patio there. If it gets too hot in midsummer you can always add an umbrella but your garden will provide a welcoming space to sit all year round.
All year round interest
Create a list of plants that will thrive in your garden and then divide into seasonal groups, depending on when they look good. Try to select plants that work hard, those that will fit into one more than one of these boxes. Consider plants with interesting bark, berries, seed heads and foliage whether evergreen or simply leaves that remain over winter. Don't forget that there are also many shrubs and herbaceous plants that flower over winter and give good green structure over summer and bulbs that lift one's spirit from late winter through to early summer. The last piece of the puzzle is fragrance – position winter flowering plants where you pass by every day, perhaps by the front door and that extra hit on the senses can transform a garden into something quite extraordinary.
Balance hard and soft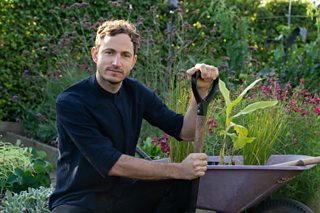 Tom Massey
When thinking about laying out your garden space try and balance the hard and soft areas: hard landscaped elements such as paving, retaining walls or garden structures are going to be your most expensive items. Soft landscaping includes planting or lawn areas, and is generally much lower in cost. If you have large expanses of paving, try breaking them up with planting areas, or look at your paving layout and explore whether you could substitute certain areas with gravel. Gravel has a lower labour cost to install and lower material cost than paving too. Self binding gravel is a good option if you don't like the idea of loose gravel, or you can install a honeycomb stabilisation grid that help keep loose gravel in place, whilst also assisting with transit for cars, wheelchairs and buggies.
Perfect paving
There is so much choice for paving materials and it is important to get right as it will form the backbone of your new garden. Costs can vary dramatically. A key thing to remember is that the price shown on a stone supplier's website generally is only the material cost, not the labour to lay, or materials and excavations required for the sub-base and mortar bed. Ensure you get a qualified landscaper to install your paving as they will help you consider drainage and falls to stop water sitting on the surface. Riven paving has a more traditional feel, whilst sawn stone can give a more contemporary look. If choosing natural stone, remember to ask the supplier about sealing options and what they would recommend, unsealed stone can be very porous and may stain easily without any protection. Increasingly popular is porcelain for its stain resistant properties and mid-range price point, worth considering if low maintenance is a key factor.
Plant, plant, plant!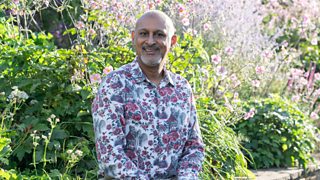 Manoj Malde
Spend money on trees and shrubs. They provide structure, winter interest and a backbone for the garden. Younger plants are cheaper, settle into their new home quicker and require less water than mature ones. Repetition provides rhythm leading the eye through a garden. Plant perennials in groups of odd numbers. Plants in 9cm pots will fill out within a season. Well-rooted perennials in a large pot (30cm diameter) can be divided to give you 3 plants. Seeds are a great and inexpensive way to fill your garden with colour. Do plant swaps with friends and family.
Bring the indoor, outdoor
Creating cohesion between your indoor and outdoor space, makes the garden an inviting space and part of your home. Using the same flooring or similar colour will create a seamless feel, making the space feel bigger. A great trick is to take the colours used internally, into the outer space. A patterned wallpaper indoors that includes pinks and oranges could be reflected in the garden through an orange painted focal wall, pink cushions on seats. Give an old bench new life by painting it orange, making it a focal feature. Interior colours can become your planting scheme colour palette.