Main content
Mark Gatiss on reflecting a century of gay life in Queers
26 July 2017
As the BBC's Gay Britannia season gets under way, actor and writer Mark Gatiss introduces his new series, Queers - eight bold new monologues commemorating the 50th anniversary of the Sexual Offences Act from the perspective of the gay men – and women – whose lives it affected.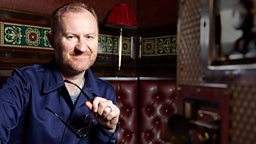 When the BBC asked me to curate a series of monologues commemorating the 50th Anniversary of the 1967 Sexual Offences Act, I leapt at the chance.
This was partly because I've always loved the monologue form (and have learned so much from Alan Bennett, the acknowledged master of them), partly because it was an opportunity to bring unheard voices to the screen (five of the eight monologues are by writers new to television) but also because there are so many amazing and unexpected gay stories to be told.
But let me start with a qualification. Queers commemorates an act of Parliament which partially decriminalised sex between men over 21 in the privacy of their own homes in England and Wales. It would not become law in Scotland until 1980 and in Northern Ireland until 1982.
There are so many amazing and unexpected gay stories to be told
I have not attempted to cover the entire history of LGBT representation in Britain over the past century. Rather, I wanted, predominantly, to examine the gay male experience - the world leading up to the 1967 Act and the years which have followed, tracing the extraordinary progress that's been made but from a variety of unexpected angles.
Anti-homosexual legislation in the modern era really began with the passing of the Criminal Law amendment Act of 1885, the so-called 'Labouchere Amendment', prohibiting "gross indecency between males". This became known almost at once as 'the blackmailer's charter' and was the law which ensnared Oscar Wilde. From this sprang the idea of The Man on the Platform, starring Ben Whishaw as a stretcher bearer in the trenches of World War One. And a love that almost spoke its name...
Though the series, as I've said, was to reflect mostly the gay male experience, I did want to include some female perspectives. I discovered the extraordinary story of Lillias Irma Valerie Arkell-Smith – known as Colonel Barker – who had lived as a man, even going so far as to marry a woman. I thought this could be the basis of a fascinating story and from it, Jackie Clune wove The Perfect Gentleman – starring Gemma Whelan – and its unexpected take on the notion of masculinity.
What was it like to be a black gay man in the past? Although there was a thriving 'queer' demi-monde in America in the 20s and 30s, it only seems to have touched the fringes of the jazz scene in this country. It was astonishing, in fact, to discover how little is known about black gay sub-culture at that time.
I re-read the biography of the artist Glyn Philpot and thought there might be something interesting in the notion of being an 'exotic' life model at that time. This, together with the story of Patrick Nelson – who was one of Duncan Grant's lovers – provided Keith Jarrett with the inspiration for Safest Spot in Town starring Kadiff Kirwan.
In 1957 came the Wolfenden Report. This was the beginning of change, though it would take a further decade for the law to actually pass. But what aspect of this period to examine? Jon Bradfield pitched me Missing Alice – an idea with which I instantly fell in love.
Homosexuality remains illegal in 74 countries. In 13 of them, it is punishable by death
Rebecca Front plays a woman happily married to a gay man who worries that increasing liberalisation might make him leave her. What a lovely, simple notion. A tiny Terence Rattigan play, as it were.
When I first moved to London I remember being invited to what seemed to me quite a sophisticated gay party.
What I'll never forget is chatting to an elderly man, waspish, hilarious and who lapsed into polari at the drop of a feather boa. "It was never the same, you know, dear, after it was legal", he said. "All the fun went out of it."
I wanted to use this as a jumping off point, to explore the notion that not everyone saw legalisation as a good thing. Matthew Baldwin, who had already written a fascinating play about '67 called The Act, was the natural choice to write I Miss the War starring Ian Gelder.
With the 80s, the shadow of AIDS, of course, looms, as monolithic as those tombstone TV ads we grew so used to. This was was the time in which I grew up as a gay man. But how to approach this period and this subject which might feel like it's prey to cliche? Happily Brian Fillis came up with More Anger, starring Russell Tovey as a young gay actor who finds the health crisis affecting him in unexpected ways.
By 1994 change was in the air and the House of Commons voted to lower the homosexual age of consent. I was there that night as big crowds gathered to hear the – as it turned out, disappointing – result. Michael Dennis was also there – though we didn't know each other at the time. His memories of that experience and of being a young man enjoying the big city for the first time became A Grand Day Out starring Fionn Whitehead.
Finally, Something Borrowed starring Alan Cumming brings us – almost – to the present day and the preparations for a wedding. I wanted to celebrate this amazing state of affairs, unthinkable just a short time ago, but also to explore what might have got lost along the way. The notion of being different, an outsider, other. Gareth McLean's monologue asks some tough questions without providing easy answers.
As we see every day, hard-won victories can be undone with the stroke of a presidential pen. Homosexuality remains illegal in 74 countries. In 13 of them, it is punishable by death. But let's not forget how far we have come. And that we stand on the shoulders of giants.
Queers begins with The Man on the Platform on Monday 31 July at 22:00 on BBC Four. It is part of the BBC's Gay Britannia season.