Main content
What happens when you leave the finest folk musicians around in a room...
Belfast Waterfront, April 3 2018. It was the night before the Radio 2 Folk Awards, and with preparations in full swing we invited some of the performers, guests and artists in town for one of the biggest events in the folk calendar to do what folk musicians do best... play.
Watch the performance now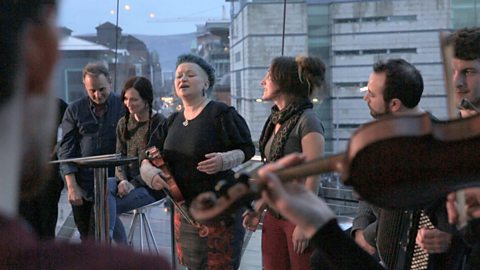 On the eve of the Radio 2 Folk Awards, performers, nominees & guests get together to play
Meet the performers
We were lucky enough to be joined by some truly wonderful musicians, including... Eliza Carthy, founding member of Steeleye Span Maddy Prior, Julie Fowlis, Olivia Chaney, Beth Porter and David Delarre of the Wayward Band, Gwyneth Glyn, Georgia Lewis, Zoe Conway, Rowan Piggott, and Young Folk Award Nominee Mera Royle, as well Radio 2 Folk Show presenter Mark Radcliffe.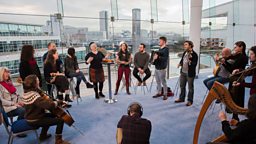 The song - North Country Maid
The track they decided to perform is North Country Maid, a traditional song also known as the Oak and the Ash. Centuries old, the song tells the tale of of a woman from the eponymous north country who travels to London, but misses desperately the people and the life she left behind.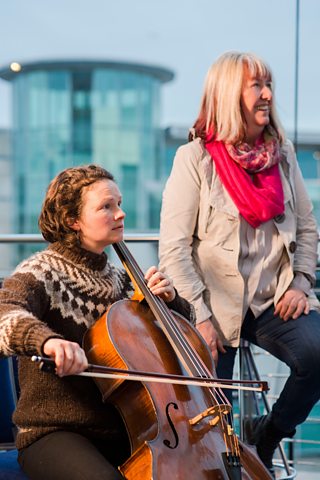 Beth Porter of the Wayward Band, and Maddy Prior
The song is referenced in Sir Walter Scott's novel Rob Roy, which was published in the early nineteenth century, and has been recorded by many artists over the decades.
Among it's more famous interpreters have been Marianne Faithful who recorded the song for her 1966 album of the same name. In the same year, The Watersons - featuring the much-loved Norma Waterson, Eliza Carthy's mother and winner of the Lifetime Achievement Award at the 2016 Radio 2 Folk Awards - also released a version of the song.
In more recent times, Maddy Prior - founding member of Folk legends Steeleye Span - recorded it under the name North Country Lass for her 2008 album, Seven for Old England.