Main content
'I was there': Thrilla in Manila, 1975
5 live Daily looks back at an historic moment through the eyes of those who were there.
"A killa and a thrilla and a chilla"
In 1974, following his win over George Foreman in what became known as the 'Rumble in the Jungle', Muhammad Ali postponed his retirement and agreed to a showdown with Joe Frazier in Manila, in the Philippines.
The pair had boxed against each other twice before, with Frazier winning the first fight and Ali winning the second.
The contest's name comes from the rhyme Ali invented, when he said it would be a "killa and a thrilla and a chilla, when I get that gorilla in Manila".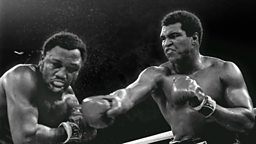 A fight like no other
Former boxer George Foreman watched Frazier and Ali slug it out and said it was "The most brutal boxing match that had ever taken place."
"This is the closest I've ever been to dying."

Muhammad Ali
He told 5 live: "It was round after round after round. Frazier would win, Muhammad would win, nobody knew where that fight was going."
Despite his fierceness in the ring, Foreman described Ali as one of the greatest and kindest men he'd ever known.
"He was a tiger in the ring but outside the ring he was the most kind boxer I'd ever met. He'd give you the shirt off his back."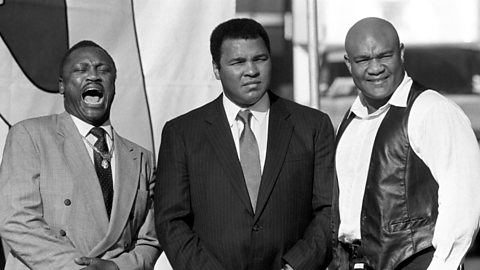 The former boxer remembers the famous Muhammad Ali and Joe Frazier 1975 bout.
Feeling the heat
There was no air conditioning in the auditorium and the temperature was in triple digits, remembers US journalist Jerry Izenberg.
He said Philippine president Ferdinand Marcos had paid to bring the fight over to detract attention from the controversy surrounding his leadership.
"Marcos was a dictator, Imelda had the shoe room, there was a lot of unrest."
"It was a great publicity gimmick for the Marcos family to bring them there and divert a little bit of the attention that was being focused on the dictator qualities of the ruling government," he told 5 live.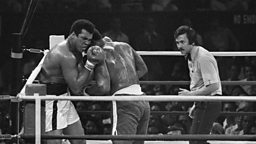 Cruel insults sparked a bitter rivalry
Although initially great friends, Frazier and Ali became bitter enemies when Ali began racially taunting his opponent.
The Sun's boxing journalist Colin Hart followed Ali for 10 years. He admired him but admitted he was unkind to Frazier.
He told 5 live's Peter Allen: "We all loved Ali but he could be very cruel, he was cruel to Joe Frazier."
"Joe could take all that gorilla business but what he couldn't take was being called an Uncle Tom and Ali repeatedly called him an Uncle Tom. There's no worse insult one black person can say to another."
"Sit down son. It's all over. No one will ever forget what you did here today."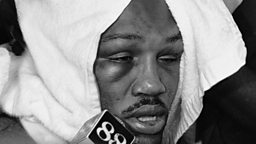 Joe Frazier's trainer Eddie Futch stopped the fight after 14 rounds, even though Frazier wanted to continue. The two men never fought again.
If you have a few more minutes...