Main content
Royal Doulton vase
The grandfather of the owner of this salt-glazed vase worked for the Royal Doulton Pottery at Lambeth in the 1930s.
He was invited by the factory to choose any piece from the collection, and this was his choice. At the time, when Art Deco was the prevailing look, this would have been an unfashionable late 19th Century piece.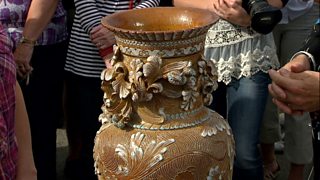 It was an important item though, as it was cast for the visit of the Prince of Wales to the Lambeth Pottery in December 1885. This was made as a demonstration piece while His Royal Highness looked on. It was then fired, put on the shelves, and left to become an important part of the museum collection.
On the vase are the initials, MVM 85, where '85' is the date and 'MVM' is Mark V. Marshall. Mark was one of the top Doulton artists, who would have signed this vase in front of the Prince of Wales. This is a key historical piece of Doulton and would be worth between £3,000 and £5,000.
Did you know? The largest Royal Doulton vase was made in the late 19th Century. It is 6ft 3in high, and sold for over £10,000 in 2011.
Get the app that lets you join in by guessing the values of items featured in the show.