Main content
Magne Furuholmen: Peeling a Glass Onion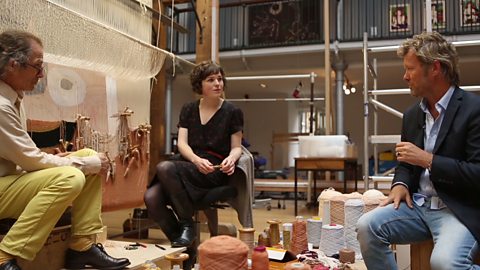 A short film about the Norwegian artist's tapestry at Dovecot Studios in Edinburgh.
Edinburgh's Dovecot Studios have collaborated with Norwegian artist and musician Magne Furuholmen to create a new tapestry, Glass Onion, which forms the centrepiece of his major new solo exhibition.
Furuholmen – formerly the keyboard player in 80s pop group A-ha – produced a selection of design ideas derived from a series of ten large format woodcut prints collectively known as Norwegian Wood. He then created a new print specifically as a design for the tapestry, using music as its main reference point.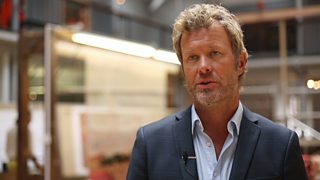 Magne Furuholmen
The Glass Onion tapestry was woven at Dovecot by Freya Sewell and Rudi Richardson under the supervision of studio manager and master weaver Naomi Robertson.
Furuholmen said: "For the Dovecot project I decided to revisit the images that I had made for Norwegian Wood and to try and imagine how the weavers would interpret my style. Together we chose a version of the work Glass Onion, as this one seemed to excite the weavers the most. I really like this kind of collaboration, exposing my work to the craft and perspective of others with a completely different angle of attack to my own."
On 15 October 2014, the tapestry was cut from the loom in a private ceremony ahead of the exhibition, which runs at Dovecot Gallery from 6 March to 25 April 2015. This short film by Dovecot Studios tells the story of the tapestry's creation.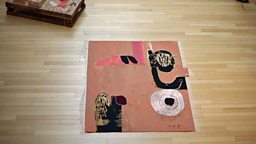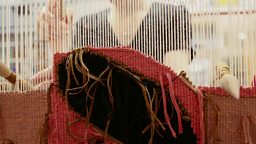 The tapestry under construction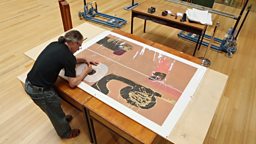 Rudi Richardson at work
More on Dovecot Studios
A short film from Dovecot Studios charting the creation of a new tapestry.
Art and Artists: Highlights
Edinburgh's Dovecot Gallery is hosting two major exhibitions as part of the 2015 Edinburgh Art Festival

An astounding photographic collection by 'Speedy George' Douglas

A sculptural mystery tour which takes in several of Britain's finest galleries

Just who was the man behind some of the most memorable artworks of the last century?

The extraordinary work of award-winning American photojournalist Steve McCurry

A major Tate retrospective of the British sculptor, and the dedicated museums in Yorkshire and Cornwall