Main content
10 films you need to binge this January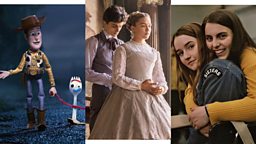 Let's say it straight away: top ten lists are kinda silly, kinda great. How can you really put films in a precise order of excellence when they're all so different in a thousand different ways?
Well, I gave it my best shot, resulting in this, something you could casually call "ten films Ali Plumb off of Radio 1 thought were good in 2019 in something resembling an order" but actually amounts to "Here are some movies I should catch up on in 2020".
Let's go.
10 | The Favourite
It may seem like a 2018 movie, but the delightfully bonkers Queen Anne drama that gave Olivia Colman her Best Actress Oscar did actually come out in 2019. January 1st, to be precise (pushes glasses up nose). So here it is, sneaking onto the list with its stellar performances – Colman, Emma Stone and Rachel Weisz were on impeccable form – incredible dialogue and bold camerawork from the amazing Yorgos Lanthimos and his director of photography Robbie Ryan.
Third party videos may contain adverts.
9 | Peanut Butter Falcon
An underseen gem, and one I sincerely recommend to anyone who'd like an instant smile put on their face: the bizarrely-titled and utterly charming Peanut Butter Falcon. The biggest names on the poster are Shia LaBeouf and Dakota Johnson, but the real star is newcomer Zack Gottsagen, who plays Zak, a young man with Down syndrome who escapes his nursing home in the hope of becoming a professional wrestler called – you guessed it – "The Peanut Butter Falcon". Sweet, heart-warming, a true delight, this is a real winner.
Third party videos may contain adverts.
8 | Toy Story 4
There were a few beauties when it came to animation this year – I was a big fan of How To Train Your Dragon: The Hidden World, and let's not forget Frozen 2 (what with it being the biggest animated movie of all time and all) – but Toy Story 4 was the best of the bunch for me. The worry that it was yet another "unnecessary sequel" quickly evaporated as somehow Pixar managed to pull off the impossible: a tear-jerking and fun follow-up to the universally beloved Toy Story 3. Forky deserves a spin-off short, by the way, the campaign starts here.
Third party videos may contain adverts.
7 | The Farewell
I cried a fair amount watching The Farewell. You know, in a good way. It's the story of a Chinese family taking the hard decision of not telling their beloved matriarch that she's close to death, so she can enjoy her final days as much as possible. Helping that happen is a good ol' shotgun wedding, resulting in a bizarre (but entirely understandable) mood where everyone is both happy and sad at the same time. Beautifully written and directed by Lulu Wang, it's based on her own experience with her own family in China, and so yes, it's got plenty of subtitles, but please do not let that put you off. This is a moving, masterful film that's going to hit you right in the heart.
Third party videos may contain adverts.
6 | Hustlers
Jennifer Lopez is absolute icon – duh doy – but people tend to forget just what a great actress she is. If you're a big fan of Out Of Sight, you'll be shouting at me that it's obvious she's brilliant on screen, but Hustlers is one of those movies that really drives home the point: J-Lo is unstoppable. Playing a veteran pole dancer during the high, heady days just before the credit crunch, she's throws herself into the role in a way that makes you feel she was destined to be in this movie. The film itself is also very good – a watchable based-on-real-life crime thriller about when the dancers band together to fleece unsuspecting Wall Street hucksters – but Lopez steals every single scene.
Third party videos may contain adverts.
5 | Rocketman
A round of applause for Taron Egerton. It's no small task taking on the role of Elton John, but he absolutely smashed it. The comparisons to Bohemian Rhapsody are easy to make, but Rocketman is more artistic, more sophisticated, more emotionally affecting in my book. Director Dexter Fletcher deserves a lot of the credit – who actually ended up helping get Bohemian Rhapsody over the finish line after Bryan Singer's departure – but the whole package is superb, from the choreography (that funfair sequence) to the inventive, almost magical on-stage performances (Taron floating into the air as he's playing piano, no big deal). It's very, very good.
Third party videos may contain adverts.
4 | Little Women
Greta Gerwig's follow-up to her outstanding debut Lady Bird is another absolute triumph. Louisa May Alcott's beloved novel has been adapted again and again over the years, but writer-director Gerwig found a way to refresh the well-known story for the 21st century beautifully. With a neat bit of "narrative restructuring" – she starts towards the end, then cuts back and forth across the two timelines – and some stunning performances from an outstanding cast (Saoirse Ronan, Emma Watson, Florence Pugh, Laura Dern, Timothée Chalamet, Meryl Streep) and much more besides (the costumes, the camera movement, everything really) she's pulled off a real treat of a film. Simply put: watch it, regret nothing. Just maybe bring some tissues, because like The Farewell, this is a weepie for sure.
Third party videos may contain adverts.
3 | Knives Out
Murder mystery films are few and far between these days. In steps writer-director Rian Johnson (Brick, The Brothers Bloom, Star Wars: The Last Jedi) with a totally new story and new characters that pays homage to the Agatha Christie classics whilst also having something new to say. The cast is excellent, with a thoroughly over-the-top Daniel Craig (as a Mississippi gentleman detective Benoit Blanc) and Ana De Armas (Blade Runner 2049, Knock Knock, the upcoming Bond movie No Time To Die) the stand-outs. But it's the whipsmart writing that's the real star, though everything is a joy in this immensely enjoyable romp, notably – for me at least – the production design of the old family pile the eccentric suspects are holed up in. And keep your eyes peeled for some seriously bizarre stuff going on in the background…
Third party videos may contain adverts.
2 | Avengers: Endgame
It's the end of a 21-film saga. It's all your favourite Marvel characters, back together again. It's the biggest film of all time, beating Avatar with its jaw-dropping worldwide box office of over $2.8 billion. It's… Avengers Endgame. You don't need me to explain why this is such an important movie for blockbuster entertainment, for superhero movie fans, for anyone who likes to see "the money on the screen" – it's just a film like no other, a seemingly impossible monster that destroyed everything in its path. Satisfying, surprising, a massive crowdpleaser, it's a hulking (ahem) giant of a film that delivers fists-in-the-air, whooping-at-the-screen iconic moments again and again. Now if you'll excuse me, I'll be listening to 'Portals' from the soundtrack just one more time. Did I mention I was a Marvel fan….? And if you need a primer for this film, look no further than this special look back at the last 10 years of Marvel.
Third party videos may contain adverts.
1 | Booksmart
To be honest, my "number one movie" of 2019 could be any of the top three here, but I've decided to go for Booksmart as it's the most "underseen" of them all and frankly, I just love it. Olivia Wilde's directorial debut is a teen comedy about two hardworking high school overachievers (Kaitlyn Dever, Beanie Feldstein) who realise on the day before graduation that the drinking-under-age, party-every-weekend kids who weren't staying in to study every night also got into the same great universities they did. A decision is made: this is the night to make up for lost time, as they embark on the most debauched 24 hours of their lives. Cue disaster after disaster as they stumble through the social circle they were never really part of, finally learning to let loose as they laugh, fight and at one point swim through a world they never gave a chance. It's hard to put into words just way I enjoyed this film so much, but basically it's funny, it's got a massive heart, and it feels real, tackling some big topics underneath all the anarchy. And the characters and performances are just so good – a shout-out to Billie Lourd's Gigi and Skyler Gisondo's Jared – I honestly couldn't wait to watch the film again. Sad fact: this is only available on DVD right now, and you can't get it on Blu-ray. For shame, I say, for shame. But ignore all that, just watch the film, however you watch it, and prepare to be "that guy" who tells everyone they know "You should see Booksmart…"
Third party videos may contain adverts.
Listen and subscribe to Radio 1's Screen Time podcast to hear Ali's fun, essential film digest.