Main content
Calf's Head Surprise
This recipe comes from A New & Easy Method of Cookery by Elisabeth Cleland, published in 1755.
You must bone it and not split it, clean it well and fill up the vacant Place with Forc'dmeat, and make it in the same Form as before: You may put in the Middle a Ragoo, and cover it with Forc'd meat.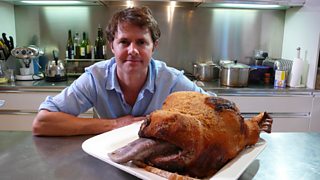 Rub it with Eggs, and strew over it Crumbs of Bread and sweet Herbs, Lemon-peel, shred small; season it with Pepper, Salt and Nutmeg; bake it, and put a savoury sauce under it. Blanch the Tongue, and let it hang out of the Mouth.
British cuisine is synonymous with roast beef. But there are a wealth of beef cuts people have turned their backs on.

Discover the full restaurant menu as created by Stefan Gates in the programme