Main content
6 acts Gilles Peterson is buzzing about right now
By Paul Stokes 1 February 2018
Gilles Peterson is always on the hunt for a new discovery.
Whether it's for his 6 Music show, DJing at club nights or something to listen to at home, he's constantly scouring the globe for music that excites him.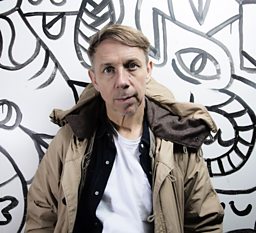 Making the most of his musical wanderlust, Gilles has made it his mission to join the musical dots wherever he can, bringing 6 Music great new cuts from the worlds of soul, hip-hop, house, Afro, Latin, electronica, jazz and beyond, every Saturday afternoon from 3pm.
Each show is packed with new gems, sessions and more, but below he's shared 6 recent arrivals with us who he's got on heavy rotation.
(Warning: third party content may contain ads)
1. Emma-Jean Thackray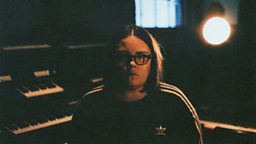 Gilles Peterson: "Because I've been around for a while I can't really believe all this hype that's going on around jazz at the moment, I've become cynical in my old age! But the truth of it is there is genuinely something happening, which is incredible! The reason it's so interesting, I've worked out, is whereas last time there was a jazz thing in this country it was a musicians' thing, which is great, there was no relationship with club culture.
There is genuinely something happening in jazz, which is incredible!
This generation are connected to clubs, most of them are DJs as well as play, so they really understand the concept of organising your parties and pushing stuff on your networks. There's a whole heap of people around, loads of artist coming through, but I recently saw this trumpeter from Yorkshire called Emma-Jean Thackray live.
She's got a group called Walrus and she plays trumpets and electronics – at the same time! – she's got a drummer, a keyboard player and a tuba player who does all the bass parts. It's really, really good! She put an EP out last year. It's very grooved-based at times, other times it goes very free – almost lost music from New York – then she'll sing a little poppy melody.
This scene is really interesting, because not only is it real and happening, but everywhere I go people are talking about the British invasion – and they aren't talking about Blur, but this scene."
2. BCUC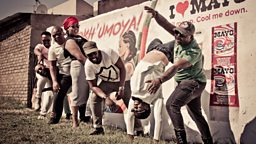 Gilles Peterson: "This is a group from Soweto, the BCUC stands for Bantu Continua Uhuru Consciousness. I went out to South Africa last year to do a documentary and I realised there was so much diversity in the music scene over there.
They were, without a doubt, the best thing I saw live in 2017
BCUC are really interesting because they remind me of The Last Poets and Gil Scott-Heron, they've got a really strong, politically conscious lyrical aspect, which is really refreshing because you don't hear that as much these days.
The band itself is pretty much made-up of drummers, it's like a drum rhythm outfit with this incredible spoken word element. They were, without a doubt, the best thing I saw live in 2017 and there's a new album coming out this year. Highly recommended!"
Gilles Peterson: "I feel the New York scene, which has been quiet for a couple of years, is waking-up a bit. The Onyx Collective is from the city and it is a group of young guys who released an EP with Supreme, the street wear company, two years ago, then last year they did two EPs with Big Dada records, which is part of the Ninja family.
It's kind of jazz with a real New York punk attitude
It's a kind of jazz meets lounge lizard, John Lurie thing, with a real New York punk attitude. They're a bunch of kids who all skateboard but they all play instruments too.
Princess Nokia was part of their crew and she's gone on to become a big part of an alternative New York sound, plus there's 20 other people in the collective and one of them is the son of the late jazz bassist Jaco Pastorius, called Felix Pastorius. So it's really interesting.
I'm really watching out for what they're up to. It's really exciting."
4. Penya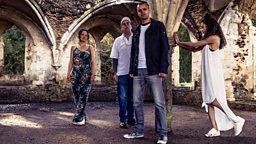 Gilles Peterson: "They're a four-piece from London signed to one of my favourite labels of last year, On The Corner Records.
They're making tracks I can play on the radio and in a club
It's a bastard son of all the world music revival labels that have been reissuing all this old incredible music from places like Columbia and Peru, as it's like they listen to those old records then twist them up and modernise the sound by working with young producers and new groups who are doing tropical and world type music.
Penya is electronic meets African, meets club culture music.
I think they're making tracks that for me I can play as both as developing artist on the radio and in a club. They've got the combination really well."
5. Kojey Radical
Gilles Peterson: "He's been around but I think he's just about to explode! He's a rapper/ poet from Hackney.
Everything he does is really interesting
He's coming off the UK urban scene, but is very much on the left side of it.
For example, if in America Mos Def is in the middle and Saul Williams is on the left, then here Skepta is in the middle and Kojey Radical is on the left, if you take the comparison. Everything he does is really interesting, I'm desperate to play it all on the radio.
It's more arty, more thought-out and more forward-thinking then a lot of the other stuff in that field."
Gilles Peterson: "What's great about Oscar Jerome is he's coming off the south London, Peckham scene, but he's as comfortable playing guitar in an African world music band as he is doing the singer-songwriter stuff.
He's definitely going to happen in the next year or so
I saw him supporting Macy Gray at Union Chapel last year, just him and a guitar. Yet on the other hand he's also in an Afrobeat band called KOKOROKO, who are brilliant!
So he's an all-round one who is definitely going to happen in the next year or so."