Main content
Bedtime Stories
Eight and a half years of bedtime reading...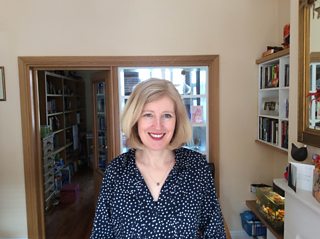 Kim Shepherd, 500 Words Judge.
Bath, book, bed. That's the mantra in our house.

Kim Shepherd
Bath, book, bed. That's the mantra in our house. We have twin boys, and ever since they were tiny, evenings have been the same. We pile on the bed together to read a selection of books, magazines, football programmes, anything with words that takes our fancy. If you've ever read It's a Book by Lane Smith you will get a flavour of how much books mean to us. The boys are very different; one has global developmental delay, the other could recite whole stories -The Avocado Baby was an early favourite - from a young age. So we have always tried to make it a special time for each of them and a happy half hour for the family. It's something that they look forward to every day.
If we read the microwave instructions to one of our boys, making it into a story with his brother and him as the main characters, he would be happy – and probably want the same thing again the following night. Here is a child who tends to have a particular book that he likes for weeks on end. That's fine if it's a story we all like, The Tiger who came to Tea, or Mrs Wobble the Waitress, for example. But it can be hard to get excited about reading the programme notes from Manchester United V Leicester City (31st January) for the twentieth time. So we have developed a number of sneaky tricks. We have 'lucky dip' where we close our eyes and choose a page at random to talk about. We make silly mistakes as we read aloud and see if he spots them. We leave sentences dangling, and see if he remembers the last word or phrase. We make up a new ending and see if he notices. Experimenting with regional dialects has been popular, although our efforts are apparently not as impressive now as when the boys were younger and less discerning.
Our other son enjoyed looking for ducks in every picture when he was tiny. Nowadays he is more likely to look for his favourite doodle in a Tom Gates or Wimpy Kid book then practise bubble writing in bed that night. He used to like having a quiz at the end of a Thomas the Tank Engine story, whereas now the questions are more likely to be about Greek legends or natural disasters.
Reading different things has meant that we are getting better at answering questions on TV quizzes. We sit together and one son shouts, "Your time starts – NOW!" If the subject is Greek mythology, our other son now has a number of possible characters at his fingertips, but Zeus can't be the answer every time, so I think he'll be moving onto Roman mythology and Shakespeare soon. We will beat those Eggheads and Chasers - if we keep reading.
Times change, children grow, our patience wanes, but 'bath, book, bed' remains. I wonder whether we'll manage another eight years? We might need a bigger bed.
By Kim Shepherd, 500 Words Round 1 Judge
More from 500 Words
Honorary 500 Words Judge HRH The Duchess of Cornwall appears in our special animation.

Everything you need to know about Radio 2's short story-writing competition for kids.