Main content
All the emotions of Kilimanjaro: The Return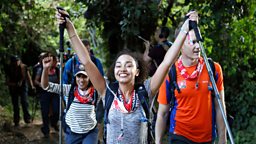 Nine celebrities faced the mammoth challenge of climbing Africa's highest mountain – an epic effort all to raise funds for Comic Relief supported projects in the UK and around the world.
Strictly Come Dancing Head Judge Shirley Ballas, former MP Ed Balls, broadcaster Anita Rani, Love Island's Dani Dyer, BBC Breakfasts' Dan Walker, Pointless host Alexander Armstrong, former NFL star and host Osi Umenyiora plus Little Mix's Jade Thirlwall and Leigh-Anne Pinnock set out to climb the 19000ft Mount Kilimanjaro.
Here's how their journey unfolded… in every emotion it's possible to feel.
1. When you're full of the promise of adventure
Behold, a bunch of happy celebrities! Smiles all round as they embarked on Day 1 of the climb.
2. When it suddenly gets very real
3. When the altitude sickness REALLY takes hold…
4. But at least there are the views to make up for it
Just low key taking our breath away...
5. When all social norms go out the window
Nowhere to run. Nowhere to hide.
6. When the cutest moment makes your heart melt
The rain. The love. The warmth. We can't even <3
7. When the surreal becomes the norm
The prospect of Ed Balls singing Little Mix on the side of a mountain is a wonderful thing for us all to process.
8. When hygiene becomes a thing of the past
9. #WhatWouldOsiDo
We all need an Osi in our lives to motivate us through the day.
10. When you're so close… and yet so far…
11. When you need propping up because you're so tired
That steely face of determination from Osi though.
12. When you've CLIMBED A MOUNTAIN!
Privacy Policy
Links on this page will send you to our partner's website, where a different privacy policy is in effect. The BBC is not responsible for the content of external sites.