Main content
The Witterlist - 30th August 2019
Simon and Mark were back this week, even if technically Mark wasn't back – he was on his annual trip to Shetland. Happily, with the magic of radio we could bring his voice down the line to our London studio for the usual round of A-flight filmic wittering.
If you've missed a show or just want to revisit some of our premium movie content, you can find highlights of all of our programmes on our dedicated Witterlist page.
The Interview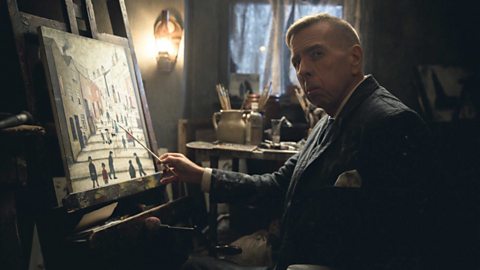 Timothy Spall talks to Simon Mayo about his new film, Mrs Lowry & Son.
Timothy Spall was our interviewee this week, talking about his new film with Vanessa Redgrave, Mrs Lowry & Son, in which he plays LS Lowry. The film explores the artist's tumultuous relationship with his mother. Tim talked to Simon about the tragicomic friction between Lowry's creative genius and his desire to please his mother, the bleak beauty of his paintings and the similarities between Mrs Lowry and one Mark Kermode.
While the film has extraordinary performances from its two leads – buoyed by extensive research from Mr. Spall – Mark felt that Mrs Lowry & Son doesn't transition from its script's theatrical roots to a fully cinematic piece.
Last week Geoff Lloyd talked to Sam & Aaron Taylor-Johnson about their new film, A Million Little Pieces, based on the book by James Frey. The film largely ignores a lot of the controversies surrounding Frey and his work and the artifice of the story bleeds into the film to create a clichéd and unengaging film.
The Informer is a gritty crime thriller starring Joel Kinnaman as a former criminal who has to go undercover in a prison to infiltrate the mob. With a cast including Rosamund Pike, Clive Owen and Ana de Armas, there are moments of genuine tension but they are sadly undercut by the film's ever-increasing absurdity.
Executive-produced by Robert Redford and starring Matthias Schoenaerts, Bruce Dern and Connie Britton, The Mustang tells the story of a violent convict who enters a rehabilitation program taming wild mustangs. It's something of a tonal piece with a brilliant subtlety that manages to hit with a heavy emotional punch, despite an arguably obvious metaphor between man and beast.
The Souvenir is the latest film from critically-acclaimed writer-director Joanna Hogg. Starring Honor Swinton Byrne (joined in the cast by her mother, Tilda Swinton) as a young woman in the early 1980s who enters into a tumultuous relationship with an untrustworthy man. It's a personal, intimate film that Mark thought could be Joanna Hogg's best film.
Bait is the latest film from British filmmaker Mark Jenkin. Shot on 16mm film, processed by hand and with all of the sound recorded after filming had finished, it has a textured, hand-made look and an unusual style all of its own. Mark absolutely loved it, if love is strong enough a word.
Next week
Mark and Simon are actually in the same room together next week, with murderous clowns being the topic of the day as James McAvoy joins us to discuss IT: Chapter Two.
Mark Kermode joins Simon Mayo to give his verdict on the week's movies