Main content
Camila Cabello: I forgot anyone was going to hear my music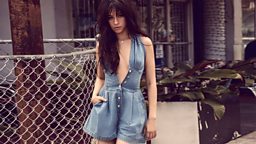 Camila Cabello has dropped her debut solo single, Crying In The Club, and she was so involved in writing and recording her first album, that she forgot anyone was ever going to listen to it.
The song samples Christina Aguilera's Genie In A Bottle and is the first release from the singer since she quit Fifth Harmony.
(Warning: Third party video may contain adverts)
Watch the Crying In The Club video here
"I feel like I've been cooped up in a studio for months doing this, during writing the music I completely forgot anyone was going to hear it, now it's really sinking in that people are going to hear it," Camila told Nick Grimshaw on The Radio 1 Breakfast Show.
I completely forgot anyone was going to hear it

Camila Cabello
"I'm running round like crazy so I don't feel like I have time to process it, which I think is a good thing. Otherwise, the nerves would be way worse."
Crying In The Club is the first single from her debut album, The Hurting The Healing The Loving, and she says she hadn't slept "in two weeks" prior to release.
Watch Camila's recent Live Lounge performance
The song is about letting go of your emotions in public, and it's an activity that Camila wholeheartedly recommends.
"If you're feeling dramatic that day, just do it on the dancefloor because no one can see you anyway," she said.
"Just pretend you're in a music video, that's what I did."
She's a pro when it comes to making videos, but says sometimes she acts like she's still filming when she's living her 'real' life.
"I definitely get into music video mode where I'm listening to music in the car and I stare out of the window and I feel like I'm still in the music video," she added.
"Everyone around me is like 'Is she OK?'. I'm like 'yes, I'm just in a music video'."
Camila Cabello's solo single Crying In The Club is out now