Main content
About
To mark the Diamond Jubilee, James Naughtie will be presenting 60 profiles of men and women whose actions during the reign of Elizabeth II have had a significant impact on lives in these islands and given the age its character, for better or worse
Thank you for all your suggestions. These were passed to our panel of historians who decided on the final list which we can now announce below. Radio 4 will broadcast profiles of the New Elizabethans daily (Mon-Fri) starting on Monday 11 June at 12.45pm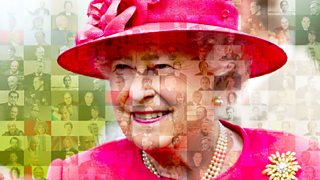 The New Elizabethans & Programme Details
Edmund Hillary (Mon 11 June 12.45pm)
Elizabeth David (Tue 12 June 12.45pm)
Graham Greene (Wed 13 June 12.45pm)
Michael Young (Thu 14 June 12.45pm)
Vladimir Raitz (Fri 15 June 12.45pm)
Francis Crick (Mon 18 June 12.45pm)
Doris Lessing (Tue 19 June 12.45pm)
Alan Sainsbury (Wed 20 June 12.45pm)
Alfred Hitchcock (Thu 21 June 12.45pm)
Laurence Olivier (Fri 22 June 12.45pm)
Benjamin Britten (Mon 25 June 12.45pm)
Dorothy Hodgkin (Tue 26 June 12.45pm)
Harold Pinter (Wed 27 June 12.45pm)
Richard Doll (Thu 28 June 12.45pm)
Tony Hancock (Fri 29 June 12.45pm)
Philip Larkin (Mon 2 July 12.45pm)
Barbara Windsor (Tue 3 July 12.45pm)
Lord Denning (Wed 4 July 12.45pm)
Paul Foot (Thu 5 July 12.45pm)
Francis Bacon (Fri 6 July 12.45pm)
John Lennon and Paul McCartney (Mon 9 July 12.45pm)
Margot Fonteyn (Tue 10 July 12.45pm)
Peter Hall (Thu 12 July 12.45pm)
Terence Conran (Fri 13 July 12.45pm)
Enoch Powell (Mon 16 July 12.45pm)
Cicely Saunders (Tue 17 July 12.45pm)
Basil D'Oliveira (Thu 19 July 12.45pm)
George Best (Fri 20 July 12.45pm)
Germaine Greer (Mon 23 July 12.45pm)
Robert Edwards (Tue 24 July 12.45pm)
Jack Jones (Thu 26 July 12.45pm)
Roald Dahl (Fri 27 July 12.45pm)
David Bowie (Mon 30 July 12.45pm)
Talaisai Labalaba, Fijian-born NCO and member of SAS (Tue 31 July 12.45pm)
Jocelyn Bell Burnell (Thu 2 Aug 12.45pm)
Roy Jenkins (Fri 3 Aug 12.45pm)
Vivienne Westwood (Mon 6 Aug 12.45pm)
Jayaben Desai (Tue 7 Aug 12.45pm)
Stuart Hall (Thu 9 Aug 12.45pm)
David Attenborough (Fri 10 Aug 12.45pm)
Margaret Thatcher (Mon 13 Aug 12.45pm)
David Hockney (Tue 14 Aug 12.45pm)
Billy Connolly (Wed 15 Aug 12.45pm)
Ralph Robins (Thu 16 Aug 12.45pm)
Amartya Sen (Fri 17 Aug 12.45pm)
Salman Rushdie (Mon 20 Aug 12.45pm)
Anita Roddick (Tue 21 Aug 12.45pm)
Norman Foster (wed 22 Aug 12.45pm)
Charles Saatchi (Thu 23 Aug 12.45pm)
Goldie (Fri 24 Aug 12.45pm)
John Hume and David Trimble (Mon 27 Aug 12.45pm)
Doreen Lawrence (Tue 28 Aug 12.45pm)
Tim Berners-Lee (Wed 29 Aug 12.45pm)
Diana Princess of Wales (Thu 30 Aug 12.45pm)
Alex Salmond (Fri 31 Aug 12.45pm)
Tony Blair (Mon 3 Sept 12.45pm)
Fred Goodwin (Tue 4 Sept 12.45pm)
Rupert Murdoch (Wed 5 Sept 12.45pm)
Simon Cowell (Thu 6 Sept 12.45pm)
The Queen (Fri 7 Sept 12.45pm)
The Panelists
Tony Hall: Chair: Chief Executive, Royal Opera House
Dominic Sandbrook: Historian and author. His books include Never Had It So Good: A History of Britain from Suez to the Beatles and White Heat: A History of Britain in the Swinging Sixties. Writes the What If... column for the New Statesman.
Sally Alexander: Professor of Modern History at Goldsmiths; research interests lie in the history of social movements, feminism in particular, London history, the history of psychoanalysis, oral history and subjectivity. Editor of History Workshop Journal since its foundation in 1976.
Bamber Gascoigne: Historian, television presenter and author. In recent years, he has established an online history encyclopaedia, called History World. His latest project is TimeSearch which presents multiple searchable timelines collected from various websites.
Max Hastings: Journalist, editor, historian and author. Former foreign correspondent for the BBC, editor of the Daily Telegraph and the London Evening Standard.
Jon Agar: Senior Lecturer in Science and Technology Studies, University College London. Research interests: History of science and technology; history of computing and information; history of noise; sociology of technology.
Maria Misra: Lecturer in Modern History at the University of Oxford specialising in the politics, culture, and economics of 19th and 20th century imperialism and colonialism. Columnist for the Times Higher Education Supplement.
Discussions around New Elizabethans on Radio 4
Related Content
As part of Queen Elizabeth II's Diamond Jubilee celebrations, watch video of her life and reign including rare film of her childhood and coronation.

To complement this series, we recommend that you catch up with The Art of Monarchy. Will Gompertz explores the long history of the Monarchy through the works of art they have acquired.