Main content
Secret Life of Books: Marvels of the Manuscript
2 September 2014
The British Library in London boasts a remarkable collection of more than 300,000 original manuscripts. The BBC Four series The Secret Life of Books filmed a number of texts there. In an exclusive interview for BBC Arts, Jamie Andrews, Head of English and Drama Collections, reveals manuscripts for William Blake's London, JG Ballard's Crash and Lewis Carroll's Alice's Adventures in Wonderland and explains why these documents are so important.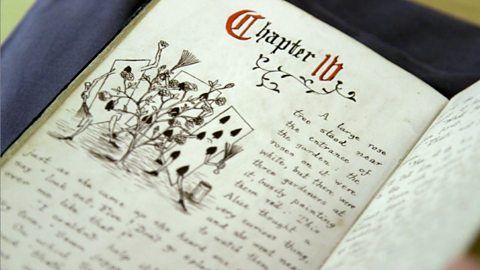 Curator Jamie Andrews reveals manuscripts by William Blake, JG Ballard and Lewis Carroll.
The Secret Life of Books, produced in partnership with The Open University, examines original texts, manuscripts, letters and diaries to uncover the stories behind the creation of six classic books.
In these extracts from the series, television dramatist Tony Jordan, actor Simon Russell Beale, award-winning writer and Virginia Woolf expert Dr Alexandra Harris, singer and broadcaster Cerys Matthews, journalist and author Bidisha and scientist Prof Alice Roberts decipher the manuscripts which mean most to them.