Main content
Georg Baselitz: Going Cubist at Glyndebourne
By William Cook | 22 May 2015
A new season begins at Glyndebourne, the stately home in Sussex that doubles as Britain's most beautiful opera house. Amid glorious gardens, with wonderful views over the South Downs, it's an idyllic place to see opera. But this summer, for the first time, Glyndebourne will be an art gallery too.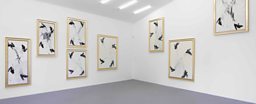 Georg Baselitz's latest exhibition for the White Cube at Glyndebourne. © Georg Baselitz, Photo © White Cube (George Darrell)
On the lawn outside the auditorium, prestigious London gallery White Cube have built a flat pack gallery. It's like a cross between a stylish summerhouse and a gigantic garden shed. Inside is a new one man show by one of Germany's greatest living artists.
Georg Baselitz has travelled here from Germany for the opening of this exhibition. As people bustle round him, getting ready for tonight's launch, he takes time out to talk to the BBC about his life and work.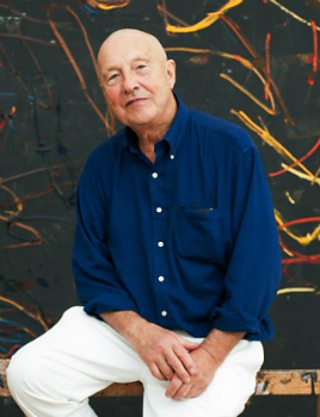 The German painter, printmaker, sculptor and draughtsman Georg Baselitz's career has spanned 50 years
Born in 1938 in a small town in Saxony, near Dresden, Baselitz's biography is a reflection of Germany's turbulent history. He's lived under Hitler's Reich, the East German 'Democratic' Republic, and a divided and reunited German Bundesrepublik. He started painting in his teens.
"That was my vocation," he says. "I wanted to be an artist. That's all I wanted to do, which meant my schoolwork suffered. All I wanted to do was paint." Yet the artistic landscape of East Germany, where he grew up, was largely confined to social realism – bland propaganda pictures of happy workers in collective farms and factories. "If you are a creative person, you have to know your forebears. As a young artist starting out, my knowledge was very poor."
His artistic awakening came in 1956, when the Russians returned Saxony's priceless art collection to the Gemaldegalerie in Dresden (the Red Army had taken the contents of the gallery to Russia at the end of the Second World War). Flattened by Allied bombers in 1945, Dresden still lay in ruins, but now, for the first time, Baselitz saw all the Old Masters (Raphael, Titian, Rubens, Rembrandt...) in his hometown.
For an individualist like Baselitz, conflict with Communism was inevitable. "I grew up in that system so I wasn't critical of it, but there came a kind of caesura when I was 18, when I saw the first paintings by Picasso."
Expelled from art school in East Berlin, for 'political immaturity', he migrated to West Berlin in 1958, a few years before the Wall went up. Here, for the first time, he was exposed to American artists like Jackson Pollock. For a young man raised behind the Iron Curtain, this was a revelation. "It was a milestone for my creative development," he recalls. "That was a turning point in my career."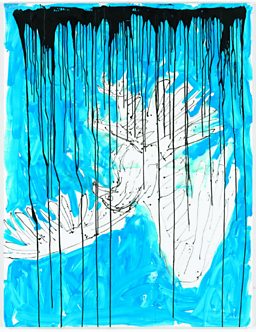 2015 Glyndebourne programme cover designed by Baselitz. Alte Elisabeth, 2010, oil on canvas copyright Georg Baselitz. Photo: Jochen Littkemann, Berlin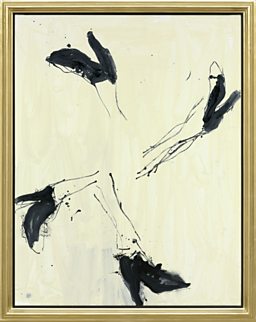 Twittering (Gezwitscher) 2014, © Georg Baselitz, Photo © Jochen Littkemann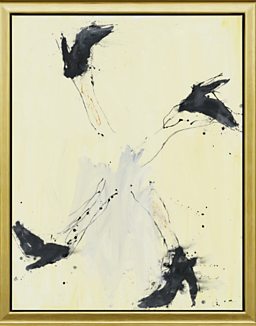 Yesterday Wagner today Bach (Gestern Wagner heute Bach) 2014, © Georg Baselitz. Photo © Jochen Littkemann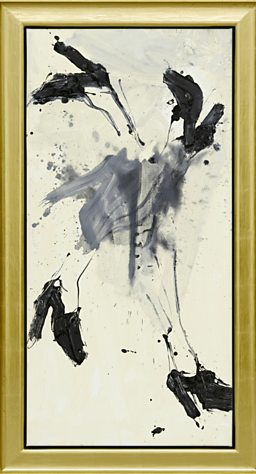 Fire! A Song (Feuer! Ein Lied) 2015, © Georg Baselitz. Photo © Jochen Littkemann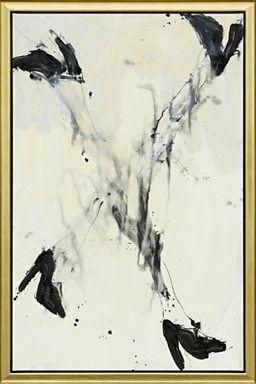 With Harmonica, too (Auch mit Harmonika) 2015, © Georg Baselitz, Photo © Jochen Littkemann
During the 1960s Baselitz quickly became a leading figure in the dynamic West German art scene, but although West Germany gave him far more creative freedom than he ever could have had in East Germany, he still had run-ins with the state. A painting of a masturbating dwarf was confiscated by the authorities 'for infringing public morals.' This disturbing picture is now widely acknowledged as a masterpiece, but at the time this controversy was a serious setback. Baselitz was prosecuted, he even had visits from the bailiffs, but he wasn't deterred.
There came a kind of caesura when I was eighteen, when I saw the first paintings by Picasso
He's always been focused, single-minded, utterly dedicated to his art. Even now, in his late seventies, he has the lean frame of an athlete. Affable yet vaguely menacing, with the tough, friendly face of a fairground boxer, he's like an amiable but slightly sinister figure from a film noir.
His raw, emotive paintings have always been provocative. On one level, they're intensely personal – fearless investigations of the human psyche. On another level, they depict the psychological traumas of Germany as a whole. Baselitz has never shied away from Germany's darkest demons - the horrors of the Third Reich, and the nation's struggle to regain its soul.
"It wasn't a choice, it was a necessity. It became an obsession." The only alternative would have been to emigrate. "If you stayed in Germany, with your eyes open, you had to paint that," he says. "It gave me important material to work on."
Inevitably, such uncompromising work can make uncomfortable viewing. A sculpture caused outrage at the Venice Biennale in 1980 when some spectators thought it depicted a Nazi salute. The pictures Baselitz painted for this show present a similar challenge to the viewer.
Ostensibly, they're merely images of dancing legs in stiletto heels ("I'm a music fan – I love music") but it's hard to look at them without seeing Swastikas. This isn't just a German problem. "It's everyone's problem," says Baselitz. "You cannot deny the past. You cannot ignore the past. You cannot be blindfolded, as far as the German past is concerned. You have to confront it. There's no point in looking away, or pretending it didn't happen." The Holocaust was a German atrocity. It was also a human atrocity. We all live in the shadow of the Third Reich.
Baselitz isn't just a shock jock, seeking scandal for the sake of it. His intense, disturbing visions belong to a long tradition of German Expressionism that stretches back to painters like Ernst Ludwig Kirchner and Max Beckmann.
Despite his iconoclastic reputation, he's actually a very traditional artist. Even when conceptualism was all the rage, he never abandoned painting. "There were winners and there were losers," he says, but he never wavered. His pictures delve deep into the subconscious, they inhabit a strange no-man's-land between figuration and abstraction, but they're conventional artworks all the same, with the same classical preoccupations as Picasso.
His current exhibition is interesting, but it lacks Baselitz's usual rich palette. These pictures are almost monochromatic. Half the pleasure of Baselitz is his violent use of colour, from muddy browns to lurid purples. If you're here to see an opera, you probably won't want anything more substantial. However I hope it inspires opera-lovers to explore the work of this extraordinary artist.
A full Baselitz show is a feast, this is merely an amuse bouche - but it still marks another important step in Germany's long journey back.
Georg Baselitz at the White Cube at Glyndebourne runs until 30 August 2015. Images courtesy of White Cube.
Music Matters on BBC Radio 3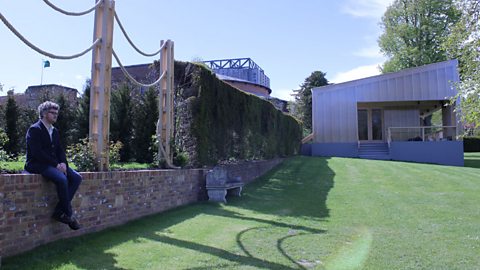 With Glyndebourne's Gus Christie, White Cube's Andrea Schlieker & architect Andy Groarke
More on Georg Baselitz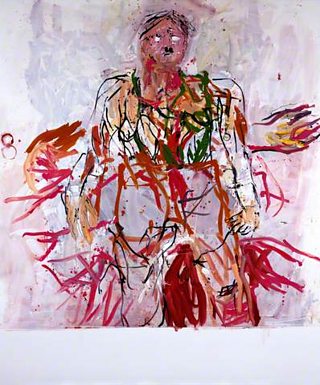 Freund 66 (Remix) by Georg Baselitz
Art and Artists: Highlights
Edinburgh's Dovecot Gallery is hosting two major exhibitions as part of the 2015 Edinburgh Art Festival

An astounding photographic collection by 'Speedy George' Douglas

A sculptural mystery tour which takes in several of Britain's finest galleries

Just who was the man behind some of the most memorable artworks of the last century?

The extraordinary work of award-winning American photojournalist Steve McCurry

A major Tate retrospective of the British sculptor, and the dedicated museums in Yorkshire and Cornwall