Main content
New European Songbook: Germany
The New European Songbook is an international creative collaboration that celebrates the new music arising from a continent in flux. Six European countries have co-produced this unique project. For Germany, violinist Shalan Alhamwy and fellow Syrian Rasha Rizk, who sings, perform with German pianist Benyamin Nuss.
The group call Departure 'a romantic art song, with a melodic dialogue between violin and voice in a colorful harmonic context. It is a musical translation of a nostalgic contemplation of someone who left his home, his dreams and hopes behind him. All that is left in his life is dusty curtains and opened windows.'
Shalan Alhamwy, born in Homs and currently living in Belgium, is a violinist and composer. His music is a fusion of elements from classical, jazz and Arabic music. As well as having a music performance degree from the High Music Institute in Damascus, Shalan also holds a degree in Pharmacy from Damascus University.
Vocalist Rasha Rizk has performed a variety of music, including oriental, opera and jazz, all over the world including in Beirut, Amman, Qatar, Kuwait, Dubai, Abu Dhabi, Morocco, Paris, Frankfurt, Athens and in many Syrian cities. In addition, she has performed at both the Doha and Dubai Jazz Festivals. Rasha has a music performance degree from the High Music Institute in Damascus, and has played parts in operas by Purcell and Bizet.
Benyamin Nuss, who was born in Bergisch-Gladbach, Germany, is a gifted pianist and composer. Apart from classical concerts, he also performs his music with his own Jazz Quartet.
Composed by Shalan Alhamwy.
Produced by Westdeutscher Rundfunk Köln (WDR, West German Broadcasting Cologne).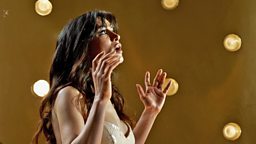 New European Songbook: Concerts at the EIF
At this year's EIF, established UK artists like Karine Polwart and Matthew Herbert joined fellow European artists, and others recently arrived on the continent, for two nights of new music.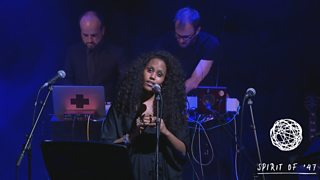 Both New European Songbook concerts, which took place on Friday 11 and Saturday 12 August 2017, are available to watch in full on-demand alongside individual highlights from some of the acts.
The New European Songbook
Violinist Shalan Alhamwy and fellow Syrian vocalist Rasha Rizk with German pianist Benyamin Nuss

Swiss pop and jazz artist Scilla Hess with Albanian composer and pianist Markelian Kapidani

Ghanaian multi-genre artist Naa Densua Tordzro with Scottish singer, songwriter and composer Karine Polwart

Prolific UK music producer and artist Matthew Herbert with Iranian fusion musician Arian Sadr

Brand-new collaborations, performed for the first time at Edinburgh International Festival