Main content
3 things we learnt from Idris Elba's Three Minute Epiphany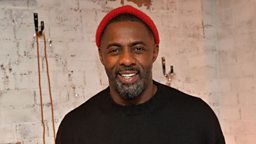 The fifth and most gruesome series of Luther is available now on BBC iPlayer, so when Idris Elba dropped by Mary Anne Hobbs' new 6 Music morning show, of course she wanted to know a lot more about the man behind that signature tweed coat.
For Mary Anne's Three Minute Epiphany podcast - where guests give an insight into their creative process - she asked Idris to tell us about his relationship with the infamous DCI.
And while he didn't give us any spoilers about that final scene - he did admit he has a massive soft spot for the character as: "He is one of my favourite characters I have ever played, and one that really is resonated with audience around the world as well so I definitely feel close to him."
Here are three things we learned about Idris' Luther journey.
1 | John Luther loves David Bowie
In the fourth episode of Luther, there's a scene where John is surrounded by photos of a murder he is trying to solve. The DCI tells a confused colleague he is using a 'decoupage cut up technique' - where you see new patterns by randomising material - a nod to how David Bowie wrote his lyrics.
This wasn't just an off the cuff comment either - John Luther is a big Bowie fan. In fact, if you've ever wondered what he might listen to during his downtime, apparently it's a mixture of Bowie and early New York Renaissance Jazz.
"I remember when we were doing the first season and we spoke to the set designer whose job is to dress Luther's home, we had a discussion about what kind of albums he would have in the house. We picked out some gems but there were quite a few Bowie records."
"He is a big Bowie fan, but also I think he is into early New York Renaissance Jazz, Jazz works, you know like Thelonious Monk."
2 | The dark places Luther goes to is a form of therapy for Idris
This has by far being the darkest series of Luther yet, not to mention the chilling series finale. Idris recently hinted to the Radio Times this might have been the precursor for a feature length Luther film which they have a skeleton idea for - although nothing is set in stone.
But when it comes to those dark places that the series touches on, Idris says his stint in the Serious Crimes Unit has been therapy for himself as much as it has his character.
"Every actor, every artist, has light and shade in their lives, that's what makes the fusion of their work and the balance of their work."
"When Luther's dark places come to life that's as much as a therapy for Idris as it is John Luther, so it's a combination of things that come to play that character."
"I can't say I'm a dark person, but I can say certain areas of my life which will never get exorcised in the raw day of light will get exorcised in a character like John."
3 | Despite everyone wanting him to be Bond, Idris prefers the quiet life
Idris reveals he has 'fingers in many pies'. He is set to DJ Coachella in April - he is no stranger to the decks as he recently stepped in for Pete Tong over on Radio 1.
And of course he's one of the favourites to become the next Bond - at this year's Golden Globes he shared a selfie with Daniel Craig to really amp up those rumours. He was also dubbed the Sexiest Man in the World by People last year.
But when it comes to off duty Idris, he prefers to be a 'bit more observational than life of the party'.
"My public persona is definitely fuelled by confidence and goodwill, but in reality I am quite shy. In school I wasn't the most popular kid; I wasn't that guy at all. I was good at sports that was part of my popularity and I could fight."
"There is a divide between my public persona that I… take a deep breath and spike it up a little bit and say: 'Hey everyone! How are you doing?'
"Idris? A lot more reserved than that, and I prefer to be quiet But it's my job now to be the personality behind my actor."