Main content
A different way of seeing: Making art for the visually impaired
For new short film series Now & Next, Juliana Capes and Ruth Barrie set themselves the challenge of filming a sunrise in a way that was accessible to all, including the visually impaired. Juliana told BBC Arts Digital about why she's on a mission to describe the indescribable.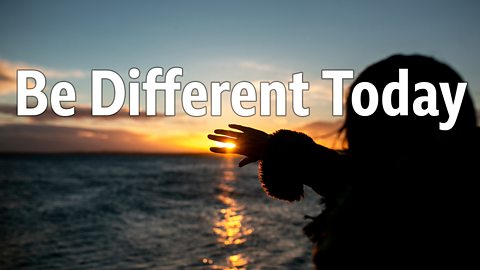 A film that describes an entire sunrise for the visually impaired.
Juliana Capes began her artistic career studying painting before embracing other media.
It was during a sculpture project at the City Arts Centre in Edinburgh around 15 years ago that she became interested in the idea of verbal descriptions of art.
She says: "The project paired a visually impaired person with a sighted person. They would describe a part of the collection and then the visually impaired person would reinterpret it in a sculptural form.
"I was on board as the sculptural technician to help them with materials. But I actually found myself far more interested in the descriptions and how it affected the way the object was made."
This led Juliana to begin running visual description tours, guiding groups including people with visual impairments around exhibitions.
She adds: "I was also working with the National Galleries of Scotland in their Childrens programme and when they heard what I was doing they set up a project with them and asked me to be the lead artist."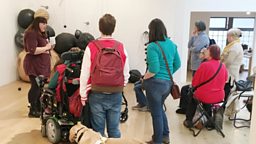 Juliana Capes (far left) leading an Audio Descriptive Tour of Jacqueline Donachie: Right Here Among Them at The Fruitmarket Gallery in 2017
Seeing as collaboration
Over time, Capes has developed her own unique approach to the process.
Many many times you have people come on the tours who are fully sighted and say 'That opened my eyes'.

Juliana Capes
She reveals: "Over the years I've built up my own system depending on what it is I'm describing. I've kind of worked out what the integral elements should be and how to structure that information into a description.
"I liken it to drawing. For instance, when you draw you don't start with a small detail, you start with looking at everything and mapping it out in a very quick succinct way, kind of making a thumbnail.
"So when you start a description you do the same, you don't start with a detail, you look for the most obvious things and a kind of summation of the whole that you can give to someone very quickly to put a framework or baseline in their head.
"I think if you worry too much about the fact that you're making a subjective description and try to be too objective, you're not going to be making the best description. You have to realise that your subjectivity is an asset if you open it up and let other people give their opinions and descriptions too, depending on the way they see things with their unique visual acuity and condition.
"So you start to allow more voices to chime in, your description is given to the people you're describing to and they start to fill out their opinions of the description, which makes the whole thing fuller. My descriptive tours usually end up as a conversation and a dialogue and a collective way of viewing art.
"Many many times you have people who are fully sighted who say 'That opened my eyes' or 'I'd never seen that before'. The act of visual description is also a way to open up the act of seeing."
Inspired to create
Now Capes is taking what she has learned describing pieces made by others and applying these ideas to her own original work.
It's been a real gift to be given this aspect to my career.

Juliana Capes
"It's been a real gift to be given this aspect to my career. I've been thinking a lot in the last year or so about how to take the ideas and skills I've developed doing visual description into my own practice as an artist.
"In 2018 I was the Barbican ArtWorks fellow at Fruitmarket Gallery and that was the beginning of thinking how to make a film [like Be Different Today] to use the visual description as the instigating activity and trying to build the film around that, rather making a film and then visually describing it at the end.
"I'm interested in continuing with film, I'm interested in the slippage between the image and the description and how that brings to mind the subjectivity of language and how it makes you think about what you think you're seeing because of what is being said.
"I'm also really interested in thinking more about sculpture and visual description and trying to link different parts of my practice. I'm thinking about incorporating sculpture and film and visual description together into an immersive sensory experience."
More stories about when art and visual impairment meet
Exciting new commissions
Showcasing emerging creative voices and offering established artists a chance to try something new.