Main content
Billie Eilish on family, the future and how she deals with fame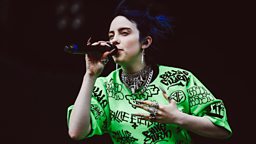 After performing an unforgettable set at Radio 1's Big Weekend, Billie Eilish donned a balaclava (as you do) and sat down for a chat with Nick Grimshaw.
The 17-year-old superstar gave a candid insight into what it's like to deal with fame at her age, and she told Grimmy how she already has the next two years already planned out.
Here's a round-up of Billie's best quotes from her chat with Grimmy:
On the pros and cons of fame:
"Fame is so weird. It's just weird. It's so strange that it's a thing, and especially that I am involved [in it]. I love my job, I really do, I love what I get to do. But there are a lot of elements that are very difficult to deal with. The fact that I can never do certain things again because of fame, is super weird. But there are also so many things I don't have to worry about, like keeping a roof over my head. So I'm fine that I don't get to go to Trader Joe's."
Watch Billie Eilish's stunning Big Weekend performance
More from Radio 1's Big Weekend
From Miley Cyrus to Stormzy, Middlesbrough hosted all the stars
On having millions of fans:
"It's weird that's it's normal in my life. I just did this show in Australia, and the green room had a window where you could see the whole crowd from above. And it was weird to be sitting in my green room eating chips and guac, seeing a huge crowd waiting for me to go on."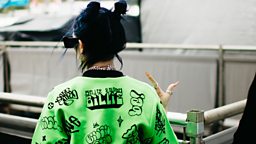 On bringing her family on tour:
"My dad works on the crew and helps build the sets and stuff. My mum comes almost as my assistant, but also because I'm so young. My brother's in my band. It's a family crew."
On the future:
"I kind of have my whole life scheduled for the next two years; which is really stressful and made me throw up when I thought about it. I literally threw up in the toilet. Anyway… No, there is lots of planning. I just want to be a little more autonomous next year. I want to be on my own a little bit. Even though I can't ever be alone ever again in my life, because I'll get swarmed by everyone. I'm also the kind of person that needs to be around people. But if I'm around people too much, I go crazy."