Main content
Attending Flog It! and FAQs
Valuation days
Thursday 2nd November 2017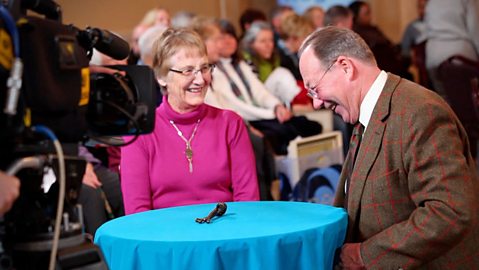 Ever wondered what it takes to make a Flog It! valuation day run smoothly? Well we've done the maths and those numbers really do stack up!
Attending Flog It!
Find out all you need to know about attending a Flog It! valuation day
Can I come along?

Anyone can attend our valuation days, except antiques dealers or people involved in the antiques trade (find out when Flog It! will be at a venue near you). Bring along up to three items and our experts will give a verbal valuation. If you decide to sell your item at auction, you may be chosen for filming with an expert at a filming table. Once your item has been filmed, our team will take your item and issue a receipt. We will then arrange to meet you at the auction house, so that we can film you when your item is sold.
What happens at a Flog It! valuation day?

Doors open at 9.30am and generally close at 4.00pm. We aim to offer an 'off-screen' valuation to everyone who arrives during that time. Queuing usually starts from about 8.30am. Once the doors open, we'll guide you to our seated waiting area where you can watch the programme being filmed. You will be escorted to a valuation table. If you are chosen for filming, you will be asked to wait in a separate area before moving to one of the filming tables.
Will I be filmed for television?

That will depend on you and your item being chosen by our team of experts and directors. If you attend a valuation day, you may also be featured in the background of general filming. If you attend an auction where we are filming, there's also a good chance you will be featured in the background.
What if I don't want to be on television?

Our valuation days are aimed at finding people who want to feature on Flog It!. People who are waiting to be seen will also be filmed as part of the background – so if you don't want to be filmed, it's best to stay away. At auctions, we ask people not connected with the filming, who do not want to be filmed, to let us know – they are then asked to stand in a designated area of the saleroom. But once again, it's likely you will be featured in the background.
How long will I have to wait?

We film throughout the day. It's a slow process, depending on how many people turn up, so you may have to wait several hours for your turn, even if you are not being filmed. Please set aside the day if you are attending, or arrive early if you need to leave at a particular time and let a crew member know.
Is there food or drink available?

Some venues offer refreshments for sale, but it's advisable to bring something yourself, just in case.
What if I cannot stand for long periods of time?

Once the doors open, we provide seated queuing. However, please do speak to one of our stewards if you would like some assistance.
What about disabled access?

This depends on the venue, but we try our best to make sure most are accessible.
Do I need to buy tickets, and is there a charge?

No, admission is on a first-come basis on the valuation day. Entry is free, and so are all valuations.
Getting items evaluated
How accurate are the valuations?

We always have a range of experts who work in their own specialist fields. They will give valuations for sale at auction, which may differ from insurance valuations.
Can I bring large or heavy items?

Yes, we will value almost any antique or collectable but please make sure you are able to transport the item yourself.
How many items can I bring?

We normally set a limit of three items per person. Collections (e.g. postcards or coins) count as one item.
When will the valuation day I attend be on television?

We usually make more than one programme from each valuation day venue. The transmission dates are not decided until a few weeks before the programme goes on air – usually several months after filming. If your valuation is filmed for the programme, we will notify you of the transmission date.
What if I have an item, but can't attend a valuation day?
General FAQs
Get answers to some other frequently asked questions about Flog It!
Can I get a DVD of Flog It?

Unfortunately we cannot provide DVDs or tapes.
Can I watch Flog It! online?

Yes, you can watch a selection of recent programmes on BBC iPlayer for up to 30 days after transmission (UK only).
What should I do if my question isn't answered here?

Please feel free to email us at flogit@bbc.co.uk or write to: Flog It, BBC TV, Bristol BS8 2LR. We will do our best to help.

Please note that because of the volume of emails we receive, if you contact us with a question that has been answered here you will not receive a personal reply.