Main content
From BTS and Little Mix to Gemma Collins skydiving – the most OMG moments from the Teen Awards 2018
Aaaaaaand breathe.
This year's Teen Awards was unforgettable. From screaming to skydiving, we've rounded up the best moments all in one place. Without further ado...
1. Gemma Collins made an AMAZING entrance
This time last year, Gemma Collins fell through a hole at Wembley Arena. For a split-second, the whole world held its breath. But GC is invincible. We know this now.
12 months later, and Gemma was following strict health and safety protocol. Her aim: to skydive into Wembley for the Teen Awards 2018 on an inflatable unicorn. What could possibly go wrong?!
2. BTS received a Teen Award in the funniest way ever
BTS took part in the Award Box Challenge, and we are SO HERE for their reactions!
3. How do you celebrate winning a Teen Award? Just ask Wes from Love Island
Check out those MOVES on Wes.
4. Wembley (and Shawn Mendes) showed the love for this year's Teen Heroes!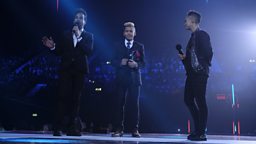 The Teen Awards are all about our Teen Heroes.
This year's Heroes – Lily, Siena and Junior – have achieved some incredible things, and they were given a huge welcome at Wembley Arena. Lily, 14, takes part in wheelchair motocross and is an advocate for the sport. Siena, 16, supports students with learning disabilities and autism. And 14-year-old Junior is a dancer and anti-bullying campaigner.
Siena had a very special message from one of her own heroes – Shawn Mendes.
5. Everyone brought some serious looks to Wembley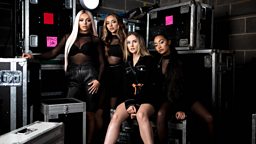 6. 5 Seconds of Summer tried to break the world record for loudest screams
What do you need to make Wembley the loudest it's ever been? Simple, really: Four Aussies, thousands of screaming fans, and a performance of the dreamy Valentine.
THAT guitar solo took the Teen Awards to a whole new level!
7. Sigrid made us get all emotional
The Norwegian star performed the hip-shifting, emotional Strangers. No, YOU'RE crying.
8. Little Mix were out of this world!
Little Mixers assemble!
Making their live return with new music, this was the performance we'd all been waiting for. Shout out to Perrie, Jesy, Jade and Leigh-Anne. And an even bigger shout out to everyone at Wembley and watching at home!