Main content
The Tokyo Olympics – Stretching Every Sinew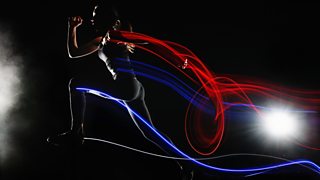 In less than three weeks all eyes will be on Japan, for the postponed Tokyo 2020 Olympic Games. It's the first peacetime postponement of the global sporting event and in the midst of the continuing Covid-19 pandemic there remain some uncertainties and concerns for the athletes taking part.
For Radio 4's Sunday Worship, The Rt Revd Libby Lane, Bishop of Derby and the Church of England's lead Bishop for Sport, reflects on the challenges and introduces elite British athletes as they combine personal faith with their sports.
I've always delighted in watching my favourite teams in action – even more so, since I became lead Bishop for Sport. An event like the Olympics usually brings us together, with thousands in stadia and venues or gathered with friends and family – to cheer on elite sports people and to marvel at the limits professional athletes can push their bodies to.
It'll be a very different experience for the athletes this year as they focus on the event, with excitement and trepidation, with the added complications of the pandemic. We think about the athletes, support teams and organisers as they begin their final preparations, and we reflect on those who missed out on qualifying.
Despite all the changes and uncertainties, new memories will be made, new records broken and new heights reached, as we watch the best of the best.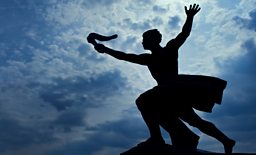 The Olympic Games began over 2,700 years ago and were regarded as a religious festival, held in honour of Zeus, the king of the Greek gods and those athletes who won were regarded as having been touched by the gods. Today athletes are striving for Olympic gold, silver or bronze medals and in all who compete – those who achieve glory and those pipped at the post – we recognise the image of God: thankfully God favours us all regardless of our successes or disappointments.
Swimmer Daniel Jervis, who won a bronze at the Glasgow Commonwealth Games and a silver at the Gold Coast Commonwealth Games in the 1500m freestyle, has already secured his place on Team GB. He tells us about the importance of his faith alongside his sporting ambitions for Tokyo.
Daniel Jervis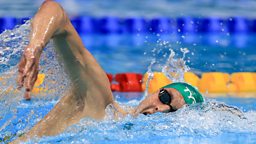 Photo: Georgie Kerr/British Swimming
"I remember in 2016 in the Olympic trials and, everything was going well, I was going into the final and I remember a feeling of God being close to me just before my race and I remember thinking to myself there's a reason why I feel he's very close to me right now.
"In the race, it did not go well, my race plan fell apart completely and when I got home, I remember thinking to myself, what just happened? And it took me a few weeks to realize that I believe I was feeling the presence of God, more strongly than because I think he knew that I could not deal with this on my own.
"I remember vowing to myself that I would never feel disappointment like that again, and in four years time, I'm going to nail it. It turned out to be five years time, but I remember touching the wall, looking at the clock and I pretty much knew straight away that I'd qualified, and the relief was just unreal, it's brilliant."
Stef Reid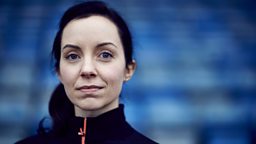 Stef Reid, Paralympic Long Jumper, five-time world record holder and reigning world champion will find out if she has qualified for Tokyo at the end of July.
Ultimately God has called all of us to obedience. That's the calling – it's not to success, it's not to winning.
"I think at the start of my career, I almost tied my success into how much God loves me, and you know God, if you want what's best for me, clearly winning is best so, you know, could you maybe help facilitate this a little bit. To then wrestling some really difficult internal conversations about what I thought about free will and predestination.
"When you are called to be a sports person, you are called to give your best in in the process, and as I've matured as a Christian I have learned I do not have control over the results. That's God's territory and one of the things that my coach has taught me in sport is that you always come to training, with two goals, one is your dream goal so, for example, that that's winning a gold medal in Tokyo, that is what gets you out of bed in the morning that's what charges you up.
"And that is a dream goal, but ultimately you don't have control over that so you have your other goal, and that is your process school, and that is I am going to show up to training every sing le day I'm going to do the best that I can. All of those things that I have control over and if you do those, then that is the most you can ask of yourself and whatever happens, happens and so, I think within that it's just understanding that ultimately God has called all of us to obedience.
"That's the calling – it's not to success, it's not to winning. Those things are great and it's lovely when they happen but I think that has just more and more just given me that that freedom and that focus on what I am called to do in terms of who I am and what I have impact and control over."
Daniel Rowden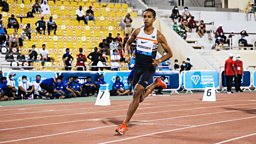 Photo: Doha Diamond League
Daniel Rowden is an English middle-distance runner specialising in the 800 metres. He will be representing Team GB in this event at the Tokyo Olympics.
"Elite sport seems like life, but condensed and magnified into these extreme emotions. And it's very easy to get carried away with the minutiae of what you're focusing on and what you're aiming at and it's very easy to let what happens for me on the track dictate my thoughts, emotions, feeling sense of self-worth, sense of success.
"So my faith relates to lots of that; it's very pertinent because my success is not dependent on how I run or how I perform. It's so much bigger than that – my success is determined by what Jesus did 2000 years ago, so even if things go incredibly badly my salvation is still there, my life's still intact and I still have an incredible relationship with God. And even if things go really, really, really well, all those things still remain."
This hymn – Guide Me O Thou Great Jehovah – has long been linked to sport, as the unofficial anthem of Welsh Rugby Union and to represent Wales in Danny Boyle's spectacular 2012 London Olympic Opening Ceremony; it reminds us that God is our strength and shield, throughout life's challenges.
Jules Wilkinson, sports chaplain, offers concluding prayers:
"Thank you for the gift of sport that so many of us enjoy. Thank you that the Olympics and Para Olympics in Tokyo can go ahead this Summer. Thank you for the wonderful celebration of sport that they will be and for the enjoyment that so many of us will get from watching them.
"We pray for the athletes. Help them run with perseverance the race marked out for them and to fix their eyes on Jesus the pioneer and perfector of faith. We pray for your presence and comfort for those who do not perform as well as they had hoped, please enable them to have their security and identity in you and not in their performance.
"We pray for the organisers of the Games that you would give them wisdom as they set protocols to keep everyone safe during the pandemic. Lastly we pray for chaplains supporting the spiritual and mental health of athletes remotely, in a Games like no other before it."
The Rt Revd Libby Lane, lead Bishop for Sports, looks ahead to the Tokyo Olympic Games – with testimony from Christian athletes who hope to participate.

Spiritual journeys on Radio 4
Ethical and religious discussion that examines some of the larger questions of life.