Main content
The Fourth Dimension
Closing Time
'Oh, you've redecorated... I don't like it.' The Doctor is echoing words he first said in the Three Doctors (about his TARDIS) and later in The Five Doctors, when he was re-united with his old friend the Brigadier.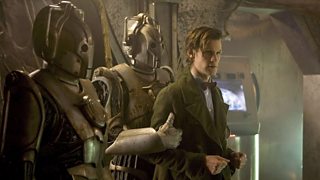 The name of the perfume advertised by Amy is Petrichor, the word used by her in The Doctor's Wife.
Closing Time is the first episode produced by Denise Paul who has previously acted as Associate Producer for several Eleventh Doctor stories.
The Cybermats are back! The Cybermen's robotic helpers first appeared in The Tomb of the Cybermen and returned in The Wheel in Space and Revenge of the Cybermen. More recently they featured in Blood of the Cybermen.
It was writer Gareth Roberts' idea to bring back the Cybermen. He explained, 'I thought there should be a sense of history about the Doctor's final battle to save Earth before he heads off to meet his death.'
The accompanying episode of Doctor Who Confidential is called Open All Hours, a reference to the shop-based sitcom starring Lynda Baron which aired from 1976 to 1985.
Lynda Baron (Val in Closing Time) played Captain Wrack in the Fifth Doctor adventure, Enlightenment. She also provided the vocals for The Ballad of the Last Chance Saloon which featured in the 1966 story, The Gunfighters.
At one point the Doctor appears to read a book simply by flicking through its pages in less than a couple of seconds. It's established in City of Death that the Doctor is able to read and absorb literature in this time-saving fashion!
The Doctor's final days are upon him - but when he drops in on an old friend, the Cybermen are waiting.