Main content
Eight ways you know you've arrived in London Below
We love Neil Gaiman's Neverwhere and we're thrilled that, later this year, led by the ever-dangerous Marquis de Carabas, we'll be taking a short trip back to the land of London Below.
We're expecting high adventure and a spine-tingling ride, with a mix of brand new characters and old favourites.
Until then a little treat: a preview picture of the cast and the production team...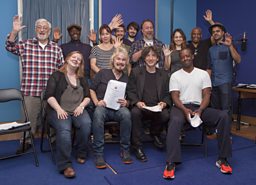 Not everyone is in this shot – at least one key figure is missing... but we can't reveal any more just yet!
Eight ways to know you're in London Below….

In anticipation of this brand new drama, we've put together a guide to the sinister, intriguing world of Neverwhere...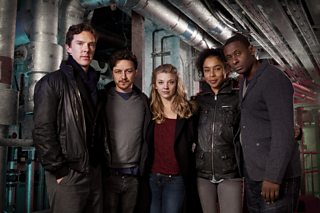 Some of the original cast of Neverwhere
1. Rats rule
You find that your natural revulsion to rats is tinged with something like suspicious awe. In London Below rats rule: Rat Speakers – humans who have taken on the characteristics of rats and can understand and obey them – act as their emissaries. We know our place.
2. You really do mind the gap
When the alternative is being dragged off the platform by the Things-that-live-on-the-track, 'mind the gap' suddenly takes on a slightly more urgent meaning.
3. King Is Cross
The tube comes to life in London Below. Night's Bridge, rather than a rather posh stop on the Piccadilly Line, becomes a terrifying death-defying conduit; there are shepherds in Shepherd's Bush (nasty ones), Old Bailey is an endearing old pigeon fancier, and Door and Richard, our two heroes, are trying to reach an Angel, obviously called Islington.
4. Air mail
London pigeons, rather than simply being a stumpy-clawed nuisance, serve a vital purpose: they deliver messages, and understand instructions, if you give it a go in their language. But they'll also probably still try to steal your sandwich.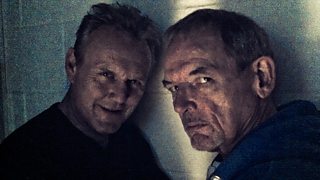 Croup and Vandemar (played by Anthony Head and David Schofield) in Radio 4's Neverwhere
5. You face Dickensian baddies
Croup and Vandemar, who are hunting Door and Richard, use the type of language in which Dickens, another self-confessed Londonophile, revelled. The duo specialise in overly wordy threats spiced with sudden stabs of violence, and give off a whiff of predatory, chilling savagery. Mr Vandemar also eats pigeons. Live. Head first.
6. Philosophy of the pavement
Neverwhere as a novel is often seen as a metaphor for urban homelessness – the underside of London that most of us are fortunate enough never to have to see. And it's not an easy place: you need courage and tenacity to survive. As Richard is told by an old homeless lady, 'You've a good heart. Sometimes that's enough to see you safe wherever you go. But mostly, it's not.'
7. Court in the act
London Below is a variation on a medieval court – there's plenty of nobility, like Lady Door, of the famed Portico family, the Baron of Baron's Court and the (admittedly probably self-styled) Marquis de Carabas. It's a courtly world with a seedy underbelly.
8. Perspective change
Once you're back in the world of London Above, dashing to work or heading out for the evening, you'll find London Below pops back to you, every now and again. You'll hear the announcement for Earl's Court and you'll think of the Earl, ruling his Court from his train carriage, and you'll maybe catch the eye of a pigeon, who'll look at you quizzically, wondering if you have a message for him. London's a magical place, whatever your perspective.