Main content
Knives Out review: Daniel Craig leads the charge on one hell of a whodunnit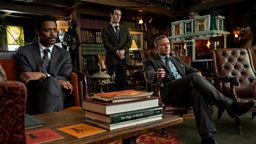 © Lionsgate
Knives Out ⭐️⭐️⭐️⭐️⭐️
As this is "a modern take on the whodunnit murder mystery genre''– as the adverts in the papers are saying – Knives Out is a tricky film to give a pithy plot summary.
What's important is this: in a gorgeous old pile on the east coast of the US, a family gathering has gone very, very, very badly when the family patriarch (Christopher Plummer) dies, and an eccentric detective (Daniel Craig) must find out what has happened.
Also in this movie: Chris Evans, Ana de Armas, Jamie Lee Curtis, Michael Shannon, Don Johnson, Toni Collette, Lakeith Stanfield and Katherine Langford. Yes, it's one of those well-written, well-directed all-star cast specials.
Third party videos may contain adverts.
Pros
Daniel Craig is very much the star of the show here, with his broad Foghorn Leghorn accent and immaculate suits making him essentially a Southern gentlemen Poirot – and frankly, he is a delight. It takes some getting used to, seeing James Bond saying "I do declare!" and phrases to that effect, but when you're there, it really is a treat. Chris Evans is also particularly enjoyable in the entitled son role, while Ana de Armas is the heart of the film, her carer character a wonderful, kind centre to all the prattish, pompous nonsense from the rest of the family. In short, the cast is superb, and I could honestly just list them all one by one and tell you something I like about them. Michael Shannon has a line I may never forget involving the word "iota" and Jamie Lee Curtis is just perfectly diabolical, making you wonder whether she'll ever get to play Cruella de Vil. If you watch Succession, there's a similar one-percenter vibe, only with more of an Agatha Christie, heightened style. They're great.
Writer-director Rian Johnson's script is an intricate puzzle box, and it is a true joy to see it all come together. Johnson has rejuvenated a beloved genre with love, care and wit that will make whodunnit fans clap their hands with joy. There are layered, tricksy narratives to enjoy, punctuated with spiky, pointed one-liners, and it's thoroughly entertaining whilst still having something to say. Alongside the snark and the wry asides, Knives Out is also about equality, about capitalism, about families – and writing about it now, I realise I can't wait to rewatch it. As a fan of murder mysteries, of Johnson, of this cast, I felt at times that this movie was made for me. So perhaps read this review with a grain of salt (but also be aware that it really is very good).
I rarely lavish praise on a film's production design but I really must here. The stately home the family lurk about in is sumptuous – yes, I really used that word – and the assorted oddments and trickets scattered about are so full of colour and detail that you just want to poke about for yourself. The stand-out piece is the "knife halo" (or "knife doughnut", if you'd prefer), which Christopher Plummer's uber-successful crime writer had made for a whim, a curio so morbidly bizarre you might find yourself staring at it when you should be watching the possible killers' faces for clues. Then there are the equally opulent costumes some of the family wear, or the music from Nathan Johnson, or Steve Yedlin's cinematography… the list goes on. There is just so much love in this film, and it's hard not to appreciate all the effort that has obviously gone into every single frame.
Cons
Knives Out is perhaps a little too "knowing" for all tastes, but it's not aiming for a truly broad audience. Here's a film that loves its inspirations and wears them proudly, so if you don't take to it, that's just how it goes. It's arch, it's heightened, it's more often than not "a bit much" but it's all put together so well you'll hopefully be just happy to be along for the ride.
There is one big leap you have to make in order to accept the key premise of the film. I won't say what it is of course, but there is definitely a bizarre conceit you need to swallow for everything to work. Many murder mysteries have something a touch cuckoo to set up the plot, but this one is particularly… peculiar.
It's not long enough. I never, ever say this, but I was having such a good time I wanted to stay in this world for as long as possible. I told you I liked it…
Three word review: Witty, spiky, clever.
Ali Plumb reviews all the biggest releases and goes behind the scenes with Hollywood stars.