Main content
Filming the marching spider crabs
By Alex Vail, Camera operator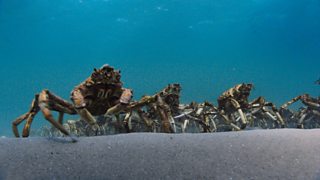 Myself and series researcher, Yoland Bosiger were down on the Mornington Peninsula, south east Australia, to film the annual mass aggregation of spider crabs. These crabs come together to shed their old shells in a process called moulting. It was our first day of filming and although the crabs had stayed in place for the last week, today they had disappeared. We tracked back and forth searching for hours, until we spotted a slightly discoloured area of water. Could this be them? A quick free dive confirmed – yep we had them!
Descending towards this mass of legs and claws for the first time was breathtaking – I had never seen so much life in one place. The crabs didn't seem concerned about our presence and I would often find one or two clambering over my legs while filming! Their relaxed nature proved essential for getting right amongst them with our underwater probe lens and bespoke underwater sliders. The probe lens is an amazing piece of camera equipment developed specifically for Blue Planet II. It has a tiny front element that allows you to get super low – right amongst the crab legs to show how huge a crab looks from the perspective of a small seagrass resident.
We had a great first few days of filming, and were filled with optimism when Director, John Chambers and Cameraman, Hugh Miller joined the team. However, the weather quickly dampened our hopes as a huge storm rolled in, pounding the shallows we had been working in. The next day, the crabs were gone. Confronted with a search over a huge area, our resourceful skipper Luke English came to the rescue with a small towcam he just happened to have in his workshop. A few quick modifications and we were watching a live-feed video of the ocean floor as we searched back and forth for the aggregation. While we found some small groups of crabs, the huge aggregation had gone, presumably back to the depths.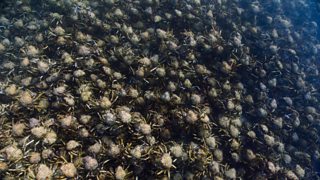 Fast forward nearly one year and I was back at the same location with my camera and timelapse kit to finish the sequence. Armed with newly acquired data on the timing of the aggregation, we were there at the perfect time, a few days before the June full moon. The crabs had arrived en-masse, allowing me and local fixer, Brett Illingworth to capture the aggregation in all its glory.
But the key aim of this trip was to document the moulting of the crabs in timelapse. Brett's local knowledge was invaluable, and we would setup in front of crabs that were bulging out of the back of their shell and had just stopped walking – a good sign they were about to emerge. In time we were able to capture some spectacular images of the moulting crabs.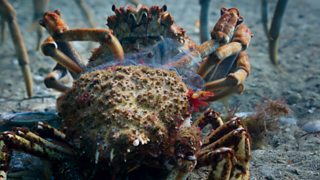 With the moulting successfully captured we turned our attention to creatures that had come to make the most of the aggregation, the huge smooth rays that feed on newly moulted crabs with their soft shells. These stingrays grow to over 4m in length and venomous barbs a foot long on their tail make it especially important not to startle them. Seeing and filming these massive rays swoop over the soft shelled crabs and suck them into their crushing jaws really emphasised why this is such a vulnerable time for the crabs, and why they band together for some level of safety.