Main content
The hidden history of plant-based diets
Today, many people associate going meat-free with concern for the fate of the planet or a desire to "eat clean". But the plant-based diet has a history that stretches through hundreds of years – and a meaning that has changed dramatically over that period.
As Radio 3's Words and Music explores the cultural significance of meat-eating, New Generation Thinker Dr Elsa Richardson takes a closer look at this hidden history.
Literature and music that explores the opposing worlds of meat-eating and vegetarianism.
Vegetables are on the rise
The Vegan Society reports that a third of the British population reduced their intake of meat in 2018, while orders for vegetarian takeaways rose by 388%. The society estimates that by 2025, at least a quarter of us could have adopted a plant-based diet.
Popularised by celebrity converts, praised by a new breed of wellness mentors and increasingly recommended by health professionals, the demand for meat-free products has never been higher. Foods once dismissed as the preserve of cranky hippies can today be found on the shelves of any local supermarket. Sales of juicers are through the roof, and even burger chains sell salads.
But the UK's plant-based revolution actually began in the 18th Century
It all started when George Cheyne, a Scottish physician and renowned epicure (pictured), put himself on a diet. Having moved to London to build a medical practice, he found that – whether meeting with potential new patients in city dining rooms, or enjoying the hospitality of satisfied customers – he was never far from the temptations of the table.
Eventually, having become "lethargic" and "melancholy", Cheyne decided to transform his diet. His new regimen featured only "seeds, breads" and "tender roots (as potatoes, turnips and carrots)", with fresh milk and water to replace wine.
On discovering that this so-called "vegetable diet" improved not only his bodily health but also his mood, Cheyne began to recommend it to his patients. For those unable to consult the doctor directly, there was his Essay of Health and Long Life (1724), which promised readers that the secret of good health lay with ample rest, exercise, fresh air – and occasional purgative vomiting.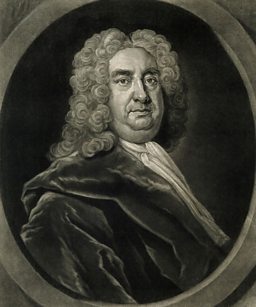 George Cheyne: Mezzotint by J Faber, junior (1732) after J van Diest (Wellcome Collection)
Vegetarianism as we know it was a Victorian innovation
Of course, people around the world have abstained from meat on both religious and cultural grounds for thousands of years, but the word "vegetarian" was coined in the 1840s, when interest in the meat-free diet began to gather momentum in Western popular culture. One of the first known uses of the term was in an 1842 edition of The Healthian, a magazine dedicated to alternative medicine that was produced by the publishing wing of the Alcott House Academy.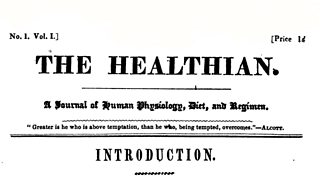 The Healthian, Vol 1 (1842-43). London: J. Cleave. Image © Harvard University via HathiTrust
Nestled deep in the Surrey countryside, Alcott House was founded by James Pierrepoint Greaves, an enigmatic socialist reformer and health enthusiast.
No ordinary school, Alcott House was established as part of a larger co-operative community whose members followed a somewhat austere daily routine, featuring such horrors as early rising, fresh air, cold baths, celibacy and importantly, a diet composed chiefly of raw vegetables. It would eventually play host to the first meetings of the Vegetarian Society.
The Victorians also invented the veggie burger
"Bleeding" vegan burgers have been available in British supermarkets since last year, and 2019 saw the North American launch of Burger King's plant-based Impossible Whopper. Today, meat substitutes are on the rise – but these innovative foods have been around longer than you might think.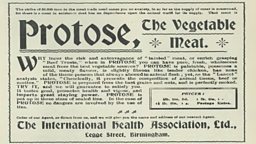 In the late 19th Century, it was possible to purchase a remarkably wide range of vegetable-based meat products. Wholesalers like the London Nut Food Company in Battersea supplied products like "Meatose", "Nut vego" and "Food Reform nut meat" to health food shops around the capital. In Birmingham, customers could purchase a locally-manufactured product called Protose that possessed, according to an advertisement from the time, a "mild, meaty flavour... slightly fibrous like tender chicken". By 1900, it was possible to mail-order a vegetarian Christmas dinner, turkey and all.
We may think modern plant-based eating is revolutionary, but it was the Victorians who really made vegetarianism political
With the inauguration of the first Vegetarian Society in the 1840s, abstinence from meat-eating was transformed from a private choice into a political cause that drew together working-class radicals and middle-class campaigners; religious dissenters and socialist campaigners; advocates of temperance and fighters for labour reform.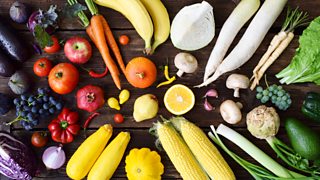 From this stew of unorthodox political affiliations emerged a new cultural trope of The Vegetarian: a character usually defined as wrongheaded and earnest, who wore sandals and refused to wear a hat, usually to be found nibbling dry crackers and proselytising on the virtues of beans over bacon.
This stereotype arguably still persists today in some quarters. However, as the environmental impact of meat production and the benefits of predominantly plant-based diets become clearer, more of us seem willing to embrace the politics of going meat-free than ever before.
From Plutarch to Tom Waits: Literature and music that explores the opposing worlds of meat-eating and vegetarianism.

Leading artists, writers and thinkers discuss the ideas shaping our lives and the links between past and present.

Leading writers on arts, history, philosophy, science, religion and beyond, themed across a week.