Main content
The actor who overcame prejudice to win over audiences
By Zoë Wilcox, Curator at the British Library
The African American actor Ira Aldridge was born in New York City and came to Britain as a teenager to pursue a career on the stage.
He first performed in Britain in 1825 and quickly became popular with audiences across the country. Almost all of Aldridge's professional career was spent continuously touring because theatre managers would not employ him for longer periods, meaning that he was probably seen by a wider variety of people than any other Shakespearean actor of the day.
The nation's greatest performing arts institutions mark 400 years since the Bard's death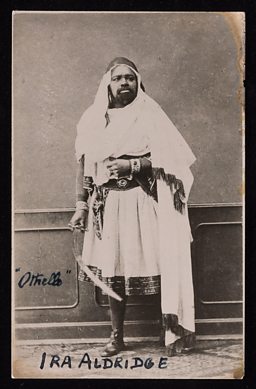 Ira Aldridge. Yale Collection of American Literature, Beinecke Rare Book and Manuscript Library.
The best known event in Aldridge's life is his ill-fated appearance as Othello at Covent Garden in 1833.
This garnered hostile reactions from sections of the press opposed to a black man performing Shakespeare in such a prestigious venue.
The cancellation of the engagement after only two nights might lead us to believe that audiences in London were less accepting of a black Shakespearean actor than elsewhere, but this is not exactly true.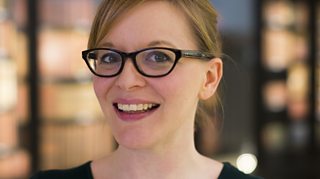 Zoë Wilcox, the British Library
Audiences for Aldridge's Covent Garden performances were thin on the ground due to an outbreak of the flu (and the fact that numbers were lower even than other nights during the period of the outbreak might suggest that some people stayed away on principle), but the majority of theatregoers were enthusiastic about his performance.
Even the critic from The Times, one of the harshest reviewers, grudgingly admitted that Aldridge was 'extremely well received'.
If those who saw Aldridge at Covent Garden were appreciative of the performance, why the negative reviews? Aldridge's race was clearly the main factor, but there were other issues at play. A different set of standards was expected of those who performed at Covent Garden and Drury Lane, the two main patent theatres in the city licensed to produce serious literary drama.
Whereas Aldridge's accent and diction had won praise outside of London, nothing other than the correct pronunciation would do for Covent Garden.
By expanding his repertoire he challenged perceptions of black performers' capabilities...
What's more, Aldridge took liberties with Shakespeare's text, an unforgiveable crime for regular London theatregoers who knew the plays inside out (even though the standard versions performed at the time were hardly 'authentic').
Provincial theatres were not just where Aldridge honed his art - they were also testing grounds for experimenting with new roles. Initially he had a limited repertoire consisting of Shakespeare's Othello and roles in anti-slavery dramas.
Gradually, though, he widened his repertoire by putting on white make-up to play Richard III, Shylock, Iago and even King Lear and Macbeth. He premiered many of these roles in Hull, the home of anti-slavery campaigner William Wilberforce. By expanding his repertoire, Aldridge challenged perceptions of black performers' capabilities and brought a more sympathetic understanding to some roles which were then normally played as out-and-out villains.
Aldridge could easily have given up the stage due to the extent of the prejudice he faced throughout the course of his career, but he persevered.
To provide more scope for his talents, Aldridge even commissioned a radical adaptation of Shakespeare's Titus Andronicus, staged at the Adelphi Theatre, Edinburgh, in 1850.
Aldridge played Aaron the Moor, a Machiavellian figure whom audiences generally love to hate. However, in his version, Aaron became the hero of the drama, breaking free of chains to leap into a river and save his child in what the Theatrical Journal declared to be an 'exceedingly clever and effective' performance 'tempered by dignity and discretion'.
Aldridge could easily have given up the stage due to the extent of the prejudice he faced throughout the course of his career, but he persevered.
He honed his technique, expanded his repertoire, continued to confound people's expectations and for the success of his Shakespearean performances was ultimately credited with enhancing English Literature and the reputation of the national poet.
Original playbills relating to Ira Aldridge's performances will be on display in the British Library's Shakespeare in Ten Acts exhibition (15 April – 6 September 2016).
About Shakespeare on Tour
From the moment they were written through to the present day, Shakespeare's plays have continued to enthral and inspire audiences. They've been performed in venues big and small – including inns, private houses and emerging provincial theatres.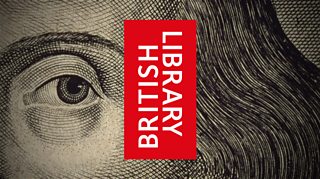 BBC English Regions is building a digital picture which tracks some of the many iconic moments across the country as we follow the 'explosion' in the performance of The Bard's plays, from his own lifetime to recent times.
Drawing on fascinating new research from Records of Early English Drama (REED), plus the British Library's extensive collection of playbills, as well as expertise from De Montfort University and the Arts and Humanities Research Council, Shakespeare on Tour is a unique timeline of iconic moments of those performances, starting with his own troupe of actors, to highlights from more recent times. Listen out for stories on Shakespeare's legacy on your BBC Local Radio station from Monday 21 March, 2016.
You never know - you might find evidence of Shakespeare's footsteps close to home…
Craig Henderson, BBC English Regions
Othello in Covent Garden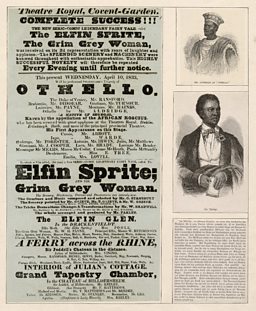 Playbill from Covent Garden. Credit: Folger Shakespeare Library.
Stories of racism
Although Ira conquered the English provinces, the capital was not as easy.
The traditional story is that Aldridge was not accepted by London audiences because of racism – and some papers wrote racist reviews of his performances.
"Owing to the shape of his lips it is utterly impossible for him to pronounce English," said the reviewer of one national newspaper of the day in 1825.
Current research suggests that the story is less clear cut. A flu outbreak was responsible for a low turn-out by audiences in the capital and those who supported slavery may have attempted to bribe some reviewers.
However, not all of these critics were negative. The Globe found his voice "distinct and sonorous."
Either way, Aldridge spent most of his professional career touring the cities and towns of England, as well as on the Continent where he was extremely successful.
In Russia he was paid £60 for every performance - one of the highest paid actors in the world.
At a performance in 1863, French poet and novelist Théophile Gautier described his performance as "Othello himself, as Shakespeare has created him… quiet, reserved, classic and majestic."
When Aldridge died in 1867, in Poland at the age of 59, he was given a state funeral. Undoubtedly, Aldridge challenged the assumptions of the era, and educated audiences to see black people in a new light, as equals in intelligence, artistic endeavour and sensitivity.