Main content
Catfish Bait: My photos are used to scam people

2 December 2019
Former glamour model-turned-vlogger Jess Davies posted hundreds of photos of herself on social media during her modelling career. But what happens when somebody uses your photos to set up fake accounts online? Jess tells BBC Sesh how her photos were used as bait by unscrupulous catfish...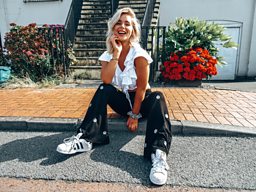 At 18 years old I embarked on the path towards my glamour modelling career, signing with an agency in London and promptly securing my first job with Nuts Magazine. I was whisked off from Paddington Station by a driver after travelling from Cardiff. Having only meant to be attending a magazine casting, I was now being thrown – bra first – into the deep end of lads' mags and topless photoshoots.
From the get-go I was encouraged to engage with social media. I set up an Instagram account in 2012 – the same year I started modelling. This was an age where the term 'influencer' failed to exist, and editing your photos meant throwing on a filter and hoping for the best. I began documenting my life through the gram: nights out at university, London photoshoots and daily mirror selfies. Unbeknownst to me, I had become a target for catfishers.
What Is 'Catfishing'?
If you're not aware, the term 'catfish' refers to someone who creates and uses a fake profile on the internet, in particular on online dating sites, to lure people into either a fake relationship or, devastatingly, to scam them out of money.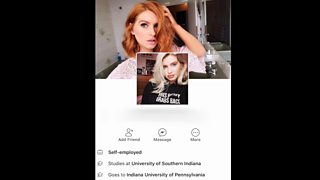 If you're searching for love online, make reverse image search your best friend and don't send anyone any of your hard-earned money
The act of catfishing came to light with the popular MTV programme Catfish: The TV Show. It followed presenters Nev and Max as they uncovered the truth behind the online profiles that the show's contributors brought to them - desperate to know if they had found true love in a chatroom, or if the person was a fake. I'm not one for spoilers, but nine times out of ten it turned out that these individuals were not embarking on a romantic relationship.
Of course, everyone would like to believe that if they were chatted up by a stranger online, they would be able to gauge whether the profile was legit, or in fact #fakenews. However, through my seven years of being used as bait by catfish, I've learnt that these scammers purposely attack the vulnerable and lonely. They act as the big fish in a pond full of individuals desperate to find companionship in chat rooms, or those actively seeking out sexual encounters with young women online.
Around a year into my modelling and social media ventures I began to receive direct messages from men asking if it was me they had been talking to in chat rooms and on dating sites. For example, "Send me more naughty pictures of you" and "It's John from Hangouts, I love our sexy talks. Show me more pics."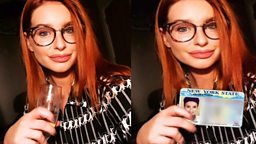 An original image I posted to my Instagram (left), and the doctored image used by a Catfish to scam people out of money (right)
Jess's Top Tips To Avoid Being Catfished
Always reverse search the pictures that they are sending you


Don't be scared to ask questions. If you are starting a relationship with someone online, you should be able to ask questions without them getting sheepish about it


Definitely don't send anyone you don't know any money online. If they really like you, they're not going to be asking you for money
Unfortunately, there isn't much that can be done to tackle catfish online other than report the profiles from within the platforms - a difficult task if you're not on the platform yourself, or have been blocked by the catfisher.
All it requires to set up an account or profile on social media or dating websites is an email address, and with that you can be whoever you want to be. The internet can be a wonderful space for socializing and engaging with people around the world, but can you ever truly be sure who's behind the username of someone you meet online?
A word of advice from someone whose images are stolen on the daily... be mindful of what you're posting online and be prepared for your images to end up anywhere, in the hands of anyone. If you're searching for love online, make reverse image search your best friend and don't send anyone any of your hard-earned money – these catfish don't deserve to nibble on your line!
Some names have been changed.