Main content
Bravery - Your Stories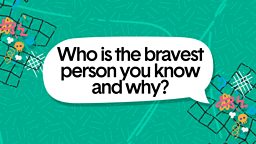 Bravery means different things to different people. Maybe you're overcoming something every day, or perhaps you've seen someone close to you go through something major. Dr Radha tells us a little bit about bravery.
Anyone can be brave
We always think bravery is someone who's not fearful, but it's the opposite. We all feel frightened – bravery is getting over and overcoming that fear to do something anyway.
It's ok to feel frightened, but it's what you do with that fear that's really important. That's what will open up opportunities in your life.
Bravery is about being ok with tolerating uncertainty. Changes – whether big or small - can throw you off and leave you feeling unbalanced, but if you deal with that uncertainty and go for it even when you're not sure what's going to happen, that's bravery.
It's also about acknowledging or accepting how you're feeling; especially if they're feelings you're not particularly comfortable with.
We asked YOU to tell us who the bravest person you know is and why. Join in the conversation over on our forum at The Student Room.