Main content
Are you ready for a munch? The Scran Van will show you how to get the takeaway taste at home
Chef Danny McLaren, is celebrating all things food and there's nothing that makes him happier than hitting the road in his food truck and sharing his taste for veggie tucker, or scran, with Scotland's night time revellers.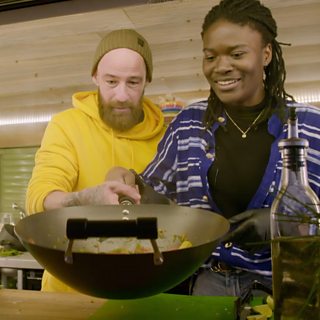 "I don't do it often, but when I do, I do 20!"
The Scran Van follows Danny as he travels around Scotland on a mission to feed the midnight merrymakers. He shows them how easy it is to knock up their favourite munchies at home and for a mean price, but can he tempt them from their local takeaways with his end-of-the-night veggie cooking?
His travels take him to Dundee, home of 'banging design, cult comics and a world-famous gaming industry' and he cooks up a commotion across from the student halls residence with his incredible culinary skills.
Students Senanu and Nathan lay down the first challenge to create an Asian-Inspired meal as a trade for their traditional end-of-evening spring rolls. No mean task, as Senanu admits, she can eat a lot of spring rolls - twenty in one sitting, at the last count.
Danny fairly notes, "You might want to see someone about that, it could be borderline spring roll addiction!"
So the question is can his simple prawn and veg noodle dish tempt Senanu away from her beloved spring rolls?
As the revellers arrive, more people are on the hunt for a munch.
Kenzie and Cat pop to the van on the way home with their burger takeaway. Can Danny tempt Kenzie away from his rather "limp looking burger?" Kenzie admits, "he's the kinda guy that feels that if it doesn't have meat in it, then it isn't a meal."
Kenzie joins Dan in the van to cook up a meat free burger to help in their efforts to consume a little less cow. So Danny introduces Kenzie to plant based mince "it looks like mince, tastes like mince, but it's no mince..." so will it pass the taste test?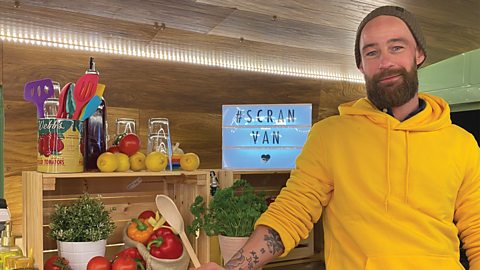 Chef Danny McLaren shows us how to make a 'belter' of a veggie burger
Soya based mince is high in protein, fibre and has around 60% less fat than most beef. It's a bit of a blank canvas, but all you need to do is jazz it up with some spice, which Danny does using onion salt, garlic powder and mustard. The theory is simple... flavour it, compress it and then shape it. Can these guys come up with the perfect patty?
Dundee's demonstrated that it's "Pure Dyno!" and shown Danny a great night, in the process.
Chef Danny McLaren wants to show how quick it can be to make your own food instead of grabbing a takeaway
Latest features from BBC Scotland
Alicia MacDonald on her dramatic coastguard helicopter delivery.

Why men must be open about their mental health.

Seven financial tips for students starting university.

Inside the Zoo goes inside Edinburgh Zoo and The Highland Wildlife Park in Kingussie.

Experts believe we should begin saving for retirement as soon as possible.

One host reveals how she has benefited from giving shelter to refugees.

The comedian discusses her harrowing upbringing in a Stark Talk podcast.

Angel investors help to create an 'echo effect' encouraging entrepreneurs.

Beatrice Jones recalls painful memories in a bid to help others understand loss.

A traditional pre-wedding ritual is said to reveal the extent of her love.

Edi Stark takes us on a journey through some of her classic archive interviews.