Main content
Black and white and heard all over: How Jim Marshall shot the jazz festivals of the 1960s
6 September 2016
Jazz Festival: Jim Marshall is a lavish book celebrating the legendary rock photographer's early work at the Newport and Monterey Jazz Festivals of the 1960s. ALLAN CAMPBELL introduces a selection of Marshall's best shots.
All photographs © Jim Marshall Photography LLC / Reel Art Press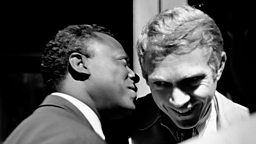 Miles Davis talks to Steve McQueen at the 1963 Monterey Jazz Festival
Jimi Hendrix setting fire to his guitar at Monterey. Johnny Cash flipping the bird at San Quentin. An out-of-it Janis Joplin backstage at the Winterland. Just a handful of the classic shots which made the late Jim Marshall the pre-eminent photographer of the rock era. No question.
But back in the Fifties and early Sixties, Marshall was into jazz - big time. A force of nature, argumentative and generous, the hot-headed San Franciscan got his break by offering John Coltrane a lift. In return, the saxophonist let him shoot nine rolls of film. By most accounts Marshall would pretty much embed himself with musicians. And they trusted him.
At Monterey and Newport black culture was openly embraced and integrated audiences were the norm

Graham Marsh
In 1960, when the latest anthology of his work - Jazz Festival - takes up, there were just two such events which really mattered; back east there was the Newport Jazz Festival on Rhode Island and out west the action was at the Monterey County Fairground in California.
As art director and writer Graham Marsh notes: "At Monterey and Newport black culture was openly embraced and integrated audiences were the norm. Nobody cared – as long as you looked sharp and dug the music, anything else was just jiving."
Item number 4 on Monterey's 'A Statement of Policy' unequivocally put the music centre stage: "Nothing is permitted to interfere with its enjoyment by guests. Flashbulbs, carnivalism and similar distractions have never been tolerated or in evidence at Monterey."
If that sounds po-faced then Marshall's photographs are an antidote. He puts you close to the musicians and somehow, the music – the impromptu backstage rehearsals, the lost-in-the-moment blowing and the sheer joy of players finding themselves in the best musical company.
It's a given that Marshall had technique and then some. But the fact that he knew many of these musicians and loved their music was also an important metaphysical element. Like he said: "Let the photograph be one you remember—not for its technique but for its soul."
Jazz Festival: Jim Marshall is published by Reel Art Press in September 2016.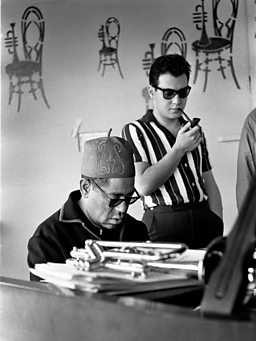 Dizzy Gillespie with Lalo Schifrin at the 1961 Monterey Jazz Festival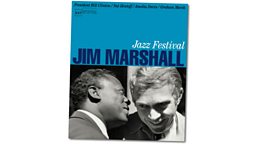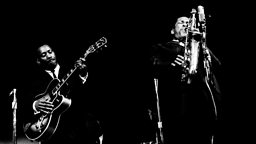 Saxophonist John Coltrane with guitarist Wes Montgomery at the 1961 Monterey Jazz Festival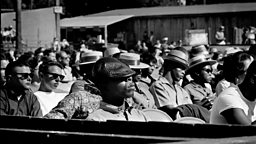 The audience at the 1960 Monterey Jazz Festival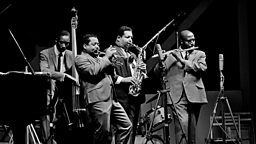 The Cannonball Adderley Sextet at the 1963 Newport Jazz Festival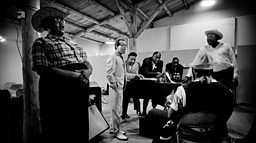 Big Mama Thornton with Jon Hendricks, Muddy Waters, Memphis Slim and others at the 1966 Monterey Jazz Festival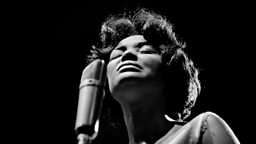 Nancy Wilson at the 1963 Newport Jazz Festival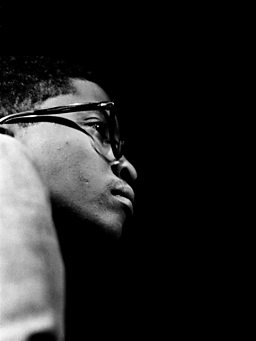 Herbie Hancock at the 1963 Monterey Jazz Festival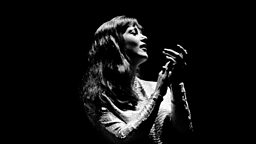 Annie Ross, of Lambert, Hendricks and Ross, at the 1960 Monterey Jazz Festival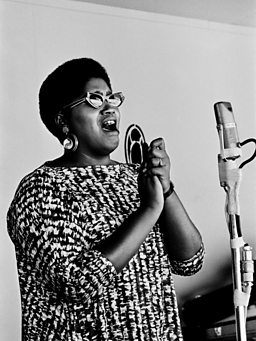 Odetta at the 1960 Monterey Jazz Festival