Main content
Winners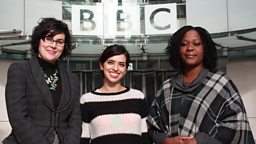 Alana Valentine, Ana Gonzalez Bello and Virginia Jekanyika
We are delighted to announce the winners of the English as a Second language category, English as a First language category, the Georgi Markov prize and the regional winners from this year's competition.
Winner of English as a Second Language prize
The Cactus Flowers
by Virginia Jekanyika, Zimbabwe
Three women are trying to pull themselves out of poverty in Kariba, Zimbabwe, by starting their own fishing business. Just as things start to go their way, they are hit by a sudden tragedy, which results in a bitter betrayal and a struggle for survival. A bitter-sweet story of family and friendship.
This play is also the regional winner for Africa.
Winner of English as a First Language prize
The Ravens
by Alana Valentine, Australia
Struggling to escape the world of prostitution, Kira has recently received a large sum of compensation money. Unsure what to do with it, and under pressure from an old friend, Kira meets Nina, a social worker in training, and an unlikely friendship develops.
This play is also the regional winner for the Pacific.
Winner of the Georgi Markov prize
Diablo and Romina
by Ana Gonzalez-Bello, Mexico
Roxanne Romina lives with her mother in a small town in the south east of Mexico, where nothing ever happens to her, except being picked on. That is, until her cousin Frank returns from America and everything changes.
This play is also the regional winner for the Americas.
Regional Winners
Asia
Disciples by Joshua Lim So, The Philippines
Caribbean
Wild Horses by Kenrick Alexander Sharpe, Jamaica
Europe
The Hanging by Peter Auf der Heyde (writing as Thamsanqa Keti), Germany
Middle East
Like Amber and Musk by Kate Lord Brown, Qatar
Shortlisted Plays
English as a First Language
Bombshell by Fiona Looney, Ireland
Death and Taxis by Joanne Carpenter, Kenya
Learning to Swim by Orla Murphy, Ireland
Outside the Wire by Genne Murphy, USA
Recombination by Cassie Gonzales, Sweden
English as a Second language
Eulogy by Maxwell Vincent Omondi, Kenya
The Guilt by Camila Vergara Pena, Colombia
The Hanging by Thamsanqa Keti, Germany
A Martini with Orson Welles by Elia Gonella, Italy
Longlisted Plays
English as a First Language
The Expert Gravedigger by Ogochukwu Nwokedi, Nigeria
Mystery of the Diamond Studded Belt by Lena Barkin & Alexander Eby, USA
Pressure by Jerry Newman, USA
English as a Second language
The Dead Ones are Lucky by Desmond Ntshalintshali, South Africa
Lenin's Shoe by Saviana Stanescu, USA
The Trip by Manjima Chatterjee, India
Toilets are for Something Fishy by Dilman Dila, Uganda
Thank you to everyone who entered. The breadth and range of plays was astonishing. A new Competition will be announced in October 2015.