Main content
American Key Lime Pie
There are many variations of this famous pie, either baked in the oven or served as a chilled cake. The base can either be made with pastry, crushed biscuits or muesli. Gluten free versions of biscuits and cereal can be substituted in this recipe.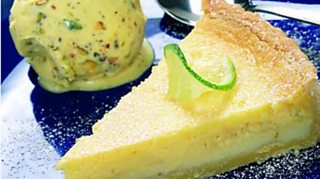 Ingredients
200gms. (6oz.) muesli or granola biscuits
50gms. (2oz.) Polyunsaturated fat or butter
2dsp. Honey
Filling
300gms.(12oz) Light cream cheese
100gms (4 oz.) natural yoghurt
250mls.(1/2 pint) whipped double cream
12.5 gms (1/2 oz) icing sugar
½ tsp vanilla extract
4 limes rind & juice
Method
Make the base, melt the fat in the sauce in the saucepan, add the honey and muesli mix well & transfer to an 8" loose bottom tin. Press down well. To make the filling, cream & soften the cheese, mix with the beaten cream, yoghurt & icing sugar. Add the vanilla, lime rind & juice, mix well, and pour over the base. Chill in the fridge for 30 minutes.
Decorate with fresh slices of lime & whipped cream.
Serves 8