Main content
Frankly Speaking….
Frank Sinatra: a one-man repository of songs that match every situation in which you may find yourself. Don't believe us? Play the Proms Sinatra Song for Every Occasion jukebox and you'll see what we mean…
Single in the springtime
There's a touch of wistful melancholia in the air. You're missing someone, just as Frank spent a lot of time missing Ava Gardner (when he wasn't arguing bitterly with her). Wallow in the kind of rueful philosophy that only Frank can provide by listening to Saturday is the Loneliest Night of the Week.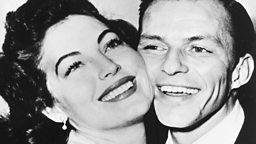 Frank and Ava Gardner, 1954.
First Love
Your eyes met across a crowded examination hall/bar/office. You keep sighing for no reason, you feel hungry and sick at the same time and all music suddenly applies only to you. Especially this.
Love Goes Awry
Disaster! You knocked a latte into their laptop. Now they'll never even look at you again without wanting to kill you. Stop replaying it in your head, and listen to Frank telling you, way before Taylor Swift did, to shake it off.
Christmas Crisis
You're wearing a hand-knitted jumper that displays a reindeer with five legs. You're sleeping on a camp bed in your parents' kitchen between the dog's basket and the washing machine. And...you have to sit at the children's table with your eleven year old cousin and his 'Bumper Book of Knock Knock Jokes'. But wait! It is not too late to redeem Christmas with a bit of Sinatra style: Santa Claus is comin' to Town.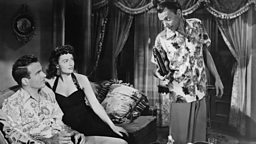 Frank, Montgomerie Clift and Donna Reed in From Here to Eternity.
New Year's Eve
You've made it through Christmas and you're feeling great. You've had too much to drink already and you've become fascinating, hilarious and by far the best-looking person in the room. You are, in fact, as bad as Bad, Bad Leroy Brown.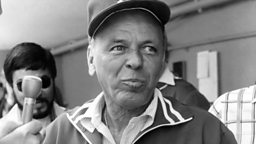 Los Angeles, 1977.
Standing on a table at 3am
You are now at the philosophical stage of New Year's Eve, or in fact New Year's Day morning, when you, and only you, appreciate the true meaning of life. You're world-weary, gently cynical, and you also have a bright red face but we won't mention that. You are probably singing My Way.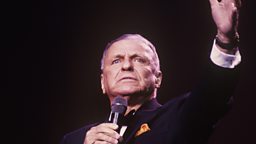 Radio City Music Hall, New York, 1992.
Loved Up
"In time the Rockies may crumble, Gibraltar may tumble, they're only made of clay..."
Love is Here to Stay is not only fabulous to dance to; the beautiful lyrics are the perfect match to the terrifyingly blithe confidence of true love.


Frank and Barbara Rush, 1963.
Proposing
We're just saying, if you wanted to propose to us, and you sang The Way You Look Tonight to us, we'd say yes. Honestly. The whole of Radio 3. We all would.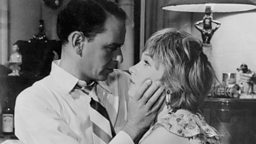 Frank and Shirley Maclaine in Some Come Running, 1958.
The cosy stage
The Best is Yet To Come should ideally be sung while you are escorting your high-kicking partner down a glittery staircase before whirling them round the dance floor. Can also be sung enthusiastically to them in the supermarket car park for ironic purposes.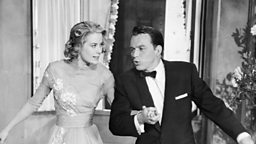 Frank with Grace Kelly in High Society 1956.
Philosophical moments
It Was a Very Good Year is one to play when your teenage children have told you so often that you don't understand and you were never young that you're starting to believe it…
And get ready to introduce them to I've Got You Under My Skin. They're going to need it.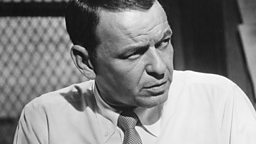 Frank in the film 'Detective', 1968.